Last week, I told you we should get ready to
go long natural gas
. The oil-to-gas ratio is hitting extreme highs, and natural gas is near "supercheap" territory.
For this week's column, I promised to tell you my favorite way to speculate on cheap natural gas, and I asked for a few of yours. Here's a short list of your ideas:
| | |
| --- | --- |
| Company | Symbol |
| Peyto Energy Trust | TSX: PEY-UN |
| San Juan Basin Royalty Trust | NYSE: SJT |
| U.S. Natural Gas ETF | NYSE: UNG |
| iPath Natural Gas ETF | NYSE: GAZ |
| Horizons Betapro NYMEX ETF | TSX: HNU |
I like the first two ideas a whole lot... They both meet the criteria I'll lay out in a moment. However, I'm not a big fan of those ETFs. They do a terrible job tracking the price of natural gas. We'll deal with the funds next week. For now, let's focus on what to buy to take advantage of a run-up in natural gas prices.
To get exposure, we have two major avenues: (1) companies that explore for and produce natural gas and (2) royalty trusts, like the two listed above, that focus on natural gas production.
I prefer the second route.
In simple terms, a royalty trust is a collection of oil and gas producing properties. Royalty trusts enjoy a tax status similar to REITs... they can pass most of their income onto shareholders in the form of "distribution" payments (here's a good overview of their pros/cons).
These trusts are "spun out" of larger energy companies... and they can be skewed toward either oil or natural gas production.
Three U.S. royalty trusts heavily skewed toward natural gas to consider here are Cross Timbers Royalty Trust (CRT), Hugoton Royalty Trust (HGT), and San Juan Basin Royalty Trust (SJT). All pay distributions near 10%. All can be highly volatile. After all, they are natural gas plays.
The beauty of owning a natural gas trust is that they pay you to wait on strengthening gas prices. Remember, natural gas is cheap here, but there's an enormous supply overhang. We're not expecting a big rise in gas... only looking to buy cheap assets.
The other route you can take is energy exploration companies that have the bulk of their assets in natural gas production. These companies aren't going to pay you much in the way of dividends, but they offer higher upside if natural gas prices pop higher... and they offer the upside of a big exploration score.
A short list of quality U.S. companies here: Southwestern Energy (SWN), Ultra Petroleum (UPL), Chesapeake Energy (CHK), and Petrohawk (HK). An excellent Canadian producer is EnCana (ECA).
These companies all produce at least 90% natural gas and just 10% oil. Their share prices move in a similar way to the price of natural gas. Take a look at Chesapeake's one-year return compared to natural gas.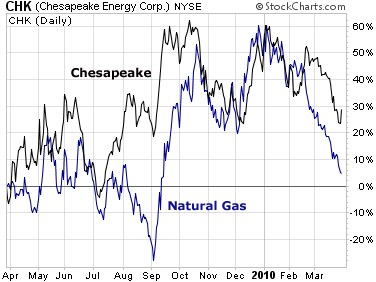 As you can see, the company's shares (in black) moved up with natural gas' gains, but didn't give it all back when the natural gas price (in blue) fell. Chesapeake returned nearly 30%, while the price of natural gas is nearly flat. Southwestern and Ultra sport similar charts.
Ultimately, it comes down to what kind of investor or trader you are. If you like to get paid to wait, go with a natural gas trust. If you like the upside of a quality exploration company, go with an explorer/producer. I'd rather get paid myself... but I know a good exploration company bought at the right price can produce great gains.
Again, I'm not predicting a big rise in natural gas. There's a lot of supply out there. But the oil-to-gas ratio is near an extreme right now... about 21:1. The last time natural gas got this cheap relative to oil, it staged an incredible rally of more than 50%. And if you're holding a royalty trust, you get paid even if natural gas simply stops falling.
Good investing,
Matt