Be careful trading gold stocks right now.
The Bullish Percent Index for the gold sector (BPGDM) did turn higher and trigger a "buy" signal since
I wrote about it a few weeks ago
. And the stocks have bounced a bit more than 10% off their lows. But they're not acting well.
In fact, the action on Friday should cause concern for any gold stock bull...
Gold, the metal, opened lower on Friday, reversed, and then closed higher. But the gold stocks opened lower and stayed there. In a bullish environment, gold stocks lead the metal. So they should have turned higher first on Friday. But that didn't happen. The Bullish Percent Index did turn higher last week. Now, however, it has leveled out and could turn lower today unless the sector rallies.
Take a look...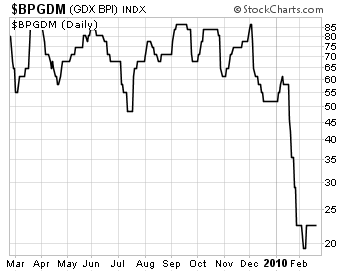 A downturn in this chart would reverse last week's "buy" signal and send the sector back into "sell" mode.
While that would be inconvenient for the gold stock bulls, it would create the potential for an even stronger buy signal when the BPGDM turns higher again. From a longer-term perspective, it would be much more bullish for the gold stocks to decline one more time and test the recent lows before rallying higher.
That doesn't have to happen, but it would be an absolute "no-brainer" buy signal for the gold sector if it did. It would set up the best buying opportunity in a year for these stocks.
For now, a sustainable rally in gold stocks is a 50/50 proposition. I'd much rather see a sharp drop in the sector that shakes out the remaining weak hands.
Best regards and good trading,
Jeff Clark