Volatility is coming back to the stock market in 2010.
That's the good news for traders. Volatility creates dislocations in the market... which creates more opportunities for us. The bad news is, stock prices will most likely keep falling for a while. Here's why...
The Fed is set to stop propping up the market with massive amounts of new cash in March. So far, the central bank has purchased something around $1.75 trillion worth of securities in the open market over the last year.
What exactly did it buy? We don't know. But it claims to have bought mortgages and long-dated Treasury bonds. This kept long-term interest rates artificially low on both government debt and mortgages. Investors seem to believe when this cash spigot is turned off, interest rates will go up... and that should force equity valuation multiples lower.
In other words, stocks might fall for the rest of this year, barring a return of the Fed to the markets.
So for the next several months, I expect we'll see: 1) A stronger dollar, thanks to rising interest rates in the U.S. 2) Weaker stock prices, as stock valuation multiples contract. And 3) a surprisingly strong economy, as the Fed's trillion-dollar stimulus works through the system.
Let me show you what I'm talking about.
Since late 2007, stocks have mostly been moving in the opposite direction of the market for U.S. government bonds. That's because investors were terrified of financial risks and fled from equities into U.S. Treasuries, which are widely considered a risk-free asset.
You can see this relationship clearly in the chart below, which shows you the five-year trading history of both government long bonds (red line, TLT) and the S&P 500 (blue line). Note the extreme divergence in 2008, when bonds went straight up and stocks went straight down.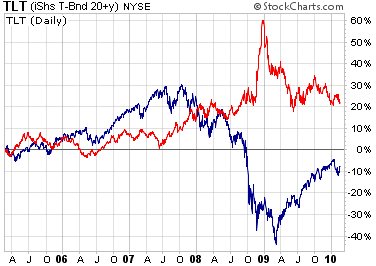 Now... as economic growth rebounds, we expect to see interest rates increase, which will send the U.S. long-bond market down. And as rates move up, stocks should fall, too.
Over the last three months, that's what we've seen – bonds and stocks are both falling together. This is a new trend, and I expect it to be the dominant trend for most of 2010.
It will be difficult to make money in this environment, as I think it's likely most asset classes will suffer declines in price. As the long-bond yield moves to more than 5%, it will garner more and more capital, pulling money away from other asset classes like stocks and commodities. I believe most investors will fare poorly in this environment.
But as volatility increases, traders will find more and more good opportunities. My current strategy is to sell stock options when the VIX – the most widely used measurement of volatility – is over 25 (when option prices are relatively expensive), and buy options when the VIX is under 20 (when option prices are relatively cheap).
Volatility is going to return... but if you use this guide, you can turn it to your advantage to make money in 2010.
Good trading,
Porter Stansberry