This is the best spot to put on a short sale I've seen in a long time.
When the S&P 500 broke the rising-wedge chart pattern to the downside back in mid-January (something we warned about
here
and
here
), the intermediate-term trend for stocks changed. The trend transitioned from what looked like a straight shot higher into a period of correction.
And during corrections, traders profit by shorting stocks.
But the decline from the rising wedge was so violent and so fast, there simply wasn't a good, low-risk entry point for a short trade – unless you anticipated the decline and went short ahead of time. Stocks quickly went from overbought to oversold. And anyone shorting into an oversold market runs the risk of getting caught in a violent bounce. Which is exactly what we've seen over the past few days.
Take a look...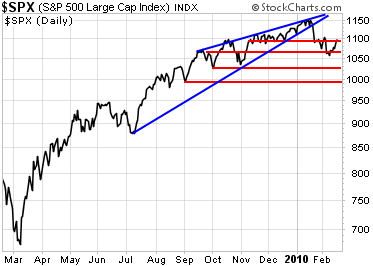 The red lines on the chart indicate various support levels for the S&P 500. As each support level is violated, it becomes resistance for any bounce attempt. You can see how the market held support on the daily chart near 1,050 and has now bumped back into resistance around 1,100.
Here's how it looks on a shorter-term, 60-minute chart...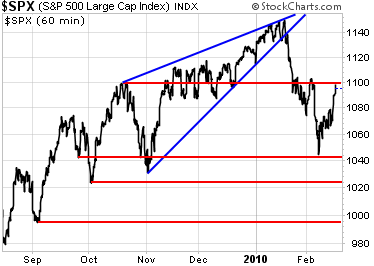 If the current correction has farther to go, which I think it does, then the S&P 500 should fall to one of the lower support lines – either around 1,020 or 1,000. The index is currently bumping up against resistance at 1,100. The resistance should be strong enough to hold back any further rally attempt.
Aggressive traders can short stocks here with the idea of buying them back as the index approaches one of the lower support lines – 80 to 100 S&P points lower. On the other hand, if stocks continue higher, short sellers can cut their losses if the S&P 500 makes a decisive move above 1,100 – say 1,105 or so.
That limits the risk to just five S&P points while the reward could be as large as 100.
You won't often find a more favorable short-selling setup than that.
Best regards and good trading,
Jeff Clark