After a 30% haircut in just over two months, natural gas is almost cheap enough to buy again...
Long-time Growth Stock Wire readers know my general thoughts on natural gas... which is a "clean cousin" of crude oil. Natural gas is chiefly used in home heating and cooling, and for electricity generation. I like it as a government-approved long-term alternative to coal.
Over the past few years, new technology has shifted the natural gas supply/demand situation. In 1984, U.S. natural gas production was 18.5 trillion cubic feet. In 2009, we produced 26.3 trillion cubic feet.
But demand for gas hasn't kept up. In 1984, we consumed 17.9 trillion cubic feet. In 2009, we consumed 22.8 trillion cubic feet. So while we added 42% to our production capacity, we only added 27% on the demand side.
This surge of production, coupled with only a creeping increase in usage, has caused a crash in natural gas prices. Just a few years ago, $7-$8 per mcf (thousand cubic feet) was a normal price. Nowadays, $4-$5 is a normal price.
And as the chart below shows, $3.00 to $3.50 is a cheap price.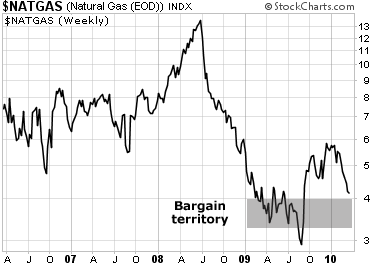 This chart is the past four years in natural gas. Along with all commodities, natural gas suffered a crash in late 2008. The glut I discussed above has kept the price depressed... but only down to the $3.25–$3.75 area. This is the level where most industry insiders consider the fuel a great bargain.
Also placing natural gas in the "bargain bin" is the oil-to-natural gas ratio. Oil and natural gas are energy cousins, so they tend to trade in a rough "energy equivalent" band. Sometimes oil gets cheap relative to natural gas; sometimes natural gas gets cheap relative to oil.
From the late 1990s to the early 2000s, before the natural gas glut came along, natural gas was cheap when the oil-to-gas ratio was 12:1 or 14:1. But now that the glut is here, we need to see the ratio spike to 20:1 or 24:1 before we say natural gas is cheap relative to oil.
This ratio reached 24:1 in the fall of last year. This extremely cheap reading kicked off a more than 100% rally in natural gas.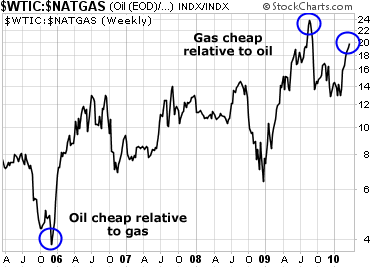 Right now, gas sells for about $4 per mcf and falling. The oil-to-gas ratio is 20:1 and rising. In other words, natty is heading back into "supercheap" territory.
If we see another bit of decline here, it will be time to load up on natural gas bets.
Next week, I'll tell you how I'm going to play a rebound in the natural gas price. If you want to share your favorite natural gas trade, you can send it to me at
[email protected]
. I look forward to reading your ideas.
Good investing,
Matt Badiali