By this time tomorrow, we'll know if Baidu (BIDU) – the "Chinese Google" - beat the Street. More importantly, we'll know what the market thinks about it.
BIDU reports quarterly earnings after the close today, and most analysts expect the company to beat Wall Street's $1.68-per-share estimate. They also have high hopes BIDU will raise guidance for the coming quarter.
Those lofty expectations have set the bar pretty high – maybe too high for the company to hurdle over. BIDU currently trades 73 times this year's earnings estimates and 50 times estimates for next year. So investors are already discounting some fairly remarkable growth.
If the company can't lift expectations even higher into the stratosphere, then shareholders may be in for one heck of a tumble.
Take a look at BIDU's technical condition...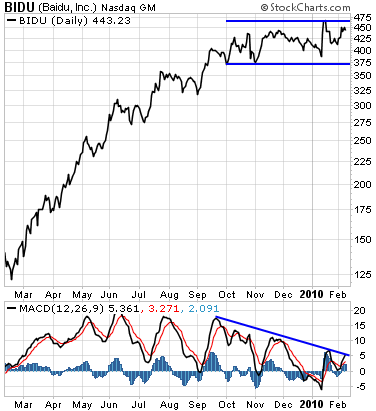 The stock is stuck in a five-month trading range between $370 and $470 per share, and it's currently trading toward the upper end of that range. The price spike in mid-January happened when Google threatened to pull out of the Chinese search engine market following an alleged "hack-attack" by the Chinese government. Without Google around for competition, BIDU would capture nearly 95% of all the search engine business in China.
The stock has held onto those price gains, in spite of significant weakness in the overall stock market. And even the most hardened skeptic has to be impressed with the price action of the shares.
But notice the Moving Average Convergence Divergence (MACD) indicator on the lower chart. This momentum-based indicator is failing to hold ground with the stock price. The stock is making new highs while the MACD lags behind. This "negative divergence" is often an early warning sign of an impending change in trend. Traders who are jumping into BIDU ahead of the earnings announcement this afternoon might want to think twice before getting too exposed.
There's no doubt BIDU will report great numbers this afternoon. The only question is how much of the good news have investors already priced in to the stock. BIDU is a fundamentally expensive stock with a weak technical pattern. It's not exactly the type of setup that'll pop higher on good news.
Bad news, on the other hand, could be a disaster.
Best regards and good trading,
Jeff Clark