You could hear the collective sigh of relief coming from bullish traders on Wall Street yesterday.
After two weeks of negative action, stocks gained ground. The Dow Jones Industrial Average was up 118 points. The S&P 500 jumped 15 points. And the Nasdaq pushed forward 24.
Any celebrations, though, are a bit premature. After a brief bounce this week, stocks will fall farther. They have to. It's the only hope the bulls have for a stronger rally later in the month.
I'll show you why. But first, let's take a fresh look at the 60-minute S&P 500 chart I showed you two weeks ago…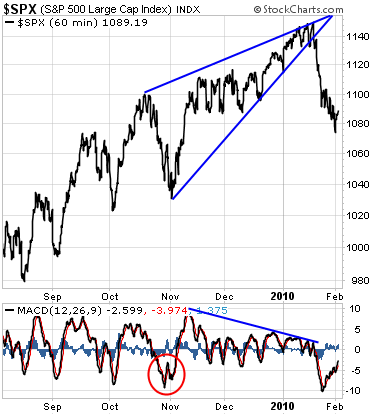 I forecasted the index would break the rising-wedge pattern (the blue lines in the top chart) to the downside because of the significant negative divergence in the MACD indicator (the blue line in the bottom chart).
MACD is a momentum indicator. Stocks were making new highs while the momentum was peaking at lower and lower levels. So the negative divergence was giving us a strong warning sign the rally could end badly.
It did.
Now, before we even start to think bullishly toward the market, we need to see positive divergence in the MACD. That's going to take a while to develop.
Basically, we need to see stocks and the MACD indicator turn lower again. Stocks need to make fresh new lows, below last Friday's 1,073 mark, and the MACD needs to hold above its recent low.
In other words, we're looking for action similar to what we saw when the market ended its modest correction back in early November (the red circle). That will set up positive divergence and give us an early warning sign of an impending rally.
Yesterday's bump higher was a nice gift to the bulls, and we'll probably get another day or two of strength. In fact, the S&P 500 could challenge resistance up around 1,100-1,115 or so.
It's way too early to expect much more than that. In fact, aggressive traders should use the strength to establish short positions in anticipation of at least one more move lower.
Best regards and good trading,
Jeff Clark