I'm shorting China.
China is the world's largest, most liquid emerging market... and the main engine of global trade. This makes its stock market a kind of benchmark for riskier investments.
I track Chinese stocks with the iShares China exchange-traded fund (FXI). This fund just reached its lowest point in over six months. But the chart gets even worse when you look under the hood...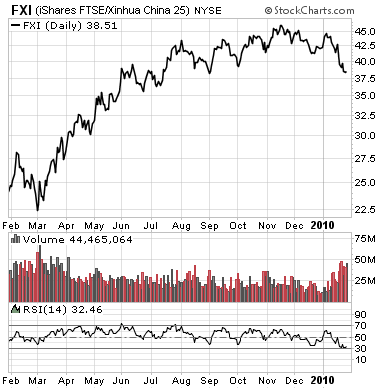 Take a look at the middle window in the chart above. These bars represent trading volume. The tall red bars on the right edge mean huge trading volume is accompanying the pullback in price. Big money is pulling out of FXI.
Now look at the relative strength index (RSI) on the bottom. The RSI is like a heart-rate monitor for a stock market. It's displaying a series of lower highs and lower lows. This means FXI's upward momentum is exhausted.
While Americans have consumed too much and produced too little, the Chinese have fallen into the opposite trap. They've built too many factories, office buildings, highways, railroad stations, and power plants. Now, the West can't afford their products. There's going to be a huge adjustment and liquidation in China.
The Chinese government is trying to cover up this problem by spending more money and stimulating the economy with easy credit. The Chinese stock market soared 160% between November 2008 and November 2009 on the back of this stimulus.
But this approach has only made the problem worse...
According to Jim Chanos, a billionaire hedge-fund manager and prominent China bear, the Chinese are currently building so much commercial real estate, they could accommodate every person in China with a 5'x5' office cubicle when construction is complete.
Now China has one of the largest investment bubbles in the world. When the adjustment comes, it's going to turn the Chinese economy into a business slaughterhouse. Looking at the chart above, we may be at this point now.
That's why shorting China is a low-risk, high-reward bet. As we say in Penny Trends, it's like throwing rocks into a wet paper bag.
Good trading,
Tom