I'm almost embarrassed to tell you one of my favorite trading "systems."
After all, it's not really a system. Many people will simply call me lazy for doing it. But as you'll see, it's a great way to safely make a lot of money in the stock market... that requires just minutes of research each month.
It's a way to get the world's best trading ideas absolutely free.
To trade this "system," you need to know just two things...
One, you must know about the concept of a "breakout."
A breakout is simply when an asset's price registers a new high or low for a given period of time. Breakouts can be to the upside, or to the downside. They can be a 10-day breakout, a three-month breakout, or a 12-month breakout. To show you what one looks like, check out the chart below. It's the Brazilian investment fund from late 2008 to early 2010.
After the credit crisis of 2008, this fund drifted sideways in the $35 area for six months. Then, when investors warmed back up to stocks, the fund staged an "upside breakout" in April... and registered its highest price in six months. The breakout served as a starter's pistol to kick off the big rally in Brazilian stocks. If a trader was bullish on Brazil back then, he'd see this bit of price strength as the market saying, "You're right... I'm moving in your direction."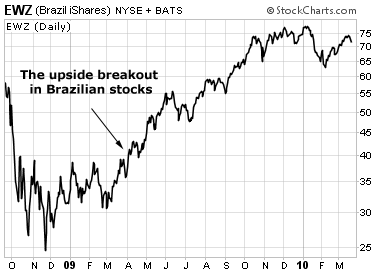 The second thing you need to know is that most investors – professional or amateur – stink. They can't invest or trade their way out of a paper bag. There is, however, a handful of experts who almost always do well in the stock market. And because government regulations require them to disclose their stock holdings, you can see their favorite ideas for free.
There's a lot of ink spilled each month analyzing these holdings... and "following the greats" is nothing new. But marrying the ideas of superb, value-focused investors like Bruce Berkowitz, who manages the Fairholme Fund (FAIRX), or the managers of the Sequoia Fund (SEQUX), with a "breakout" strategy is a terrific way to produce winning trades. (You can track the holdings of these two funds with their company's websites, or by typing their tickers into Yahoo Finance and looking at "holdings.")
Besides monitoring the mutual funds I just mentioned, I rely on Dan Ferris' outstanding Extreme Value advisory to provide me with a "cheat sheet" of potential trades.
For example, last April, Dan told his readers Intel was an extraordinary "World Dominator" you could safely buy under $17 per share. Dan is a world-class stock analyst... who is incredibly picky. He "pounds the table" only when he's found a safe stock with plenty of upside. I immediately placed Dan's Intel recommendation on my "potential trades" list.
Dan was dead on with his Intel call. Just after his recommendation, Intel staged an upside breakout and reached a six-month high of $16 per share. It then raced 46% higher in less than a year. I traded the move with options, so I made my money much faster than a conventional stock investor.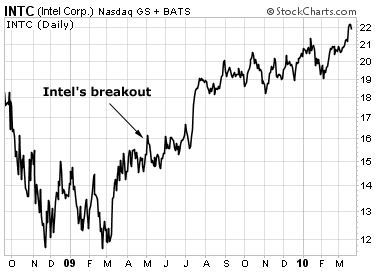 Sure, Dan wasn't recommending an options trade. He simply thought Intel shares were a great value and long-term holding. But that didn't mean I couldn't "cheat" and use his idea for a quick gain.
I also "cheat" and use ideas from Seth Klarman (Baupost Group) and David Einhorn (Greenlight Capital). Both are Hall of Fame investors with an eye for safety and value. These guys run hedge funds... which you can track with the SEC's website. (Go to SEC.gov, search for company filings, and enter a hedge fund's name to track their holdings.)
Here's the thing about some of the best long-term stock ideas: A stock trading for a great price can move sideways for years before the market realizes its value. From a trader's standpoint, I'd rather get a bit of "price confirmation" by waiting for an upside breakout before I go long. This tells me the market is just starting to realize what the "greats" already know.
Lazy? Maybe. Efficient? Definitely.
The great money managers have teams of brilliant people scouring stock screens, studying cash flow statements, and talking to insiders. I can legally look over their shoulders and use their excellent work to generate trading ideas. You can do the same.
Good trading,
Brian Hunt