My wife started a bull market in gun purchases.
A few months ago, I told you about how
my wife wanted a handgun for Christmas
. Since then, several of my friends – from the hunting enthusiast down to the pacifist vegetarian – have armed themselves. Their reasons vary. But for the most part, they're buying guns because they're afraid they may not be able to purchase one later, if they need it.
Based on the latest earnings report from Sturm, Ruger & Company (RGR), my friends aren't the only ones thinking this way.
RGR, one of America's top handgun manufacturers, reported $0.43 per share earnings for last quarter. It was 25% better than the results for the same time last year, and nearly 100% above what most analysts were expecting. Furthermore, the company raised guidance for next quarter and indicated strong demand for its products.
It seems everyone wants a gun.
As you can see from the chart, the report caught a lot of investors by surprise...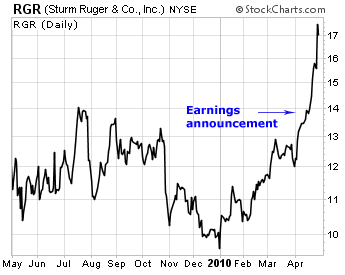 Now the question is... who else is likely to benefit from Americans' increasing desire to protect themselves? The obvious answer is Smith & Wesson (SWHC). SWHC has been making firearms in America for the past 158 years. It feels like the stock has been stuck in a tight trading range for that long as well. Or at least since I first started following it last November.
That, however, may be about to change.
SWHC is scheduled to report earnings on June 21. And so far, it doesn't appear investors are expecting much excitement. Here's the chart...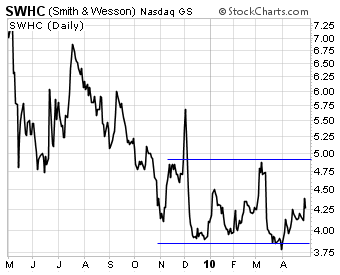 If the company reports results as bullish as RGR, then SWHC's share price may be due for a sharp spike as well. At $4.25 per share, SWHC trades at seven times earnings and only 0.7 times sales. So it's hard to imagine it getting much cheaper.
A good report may be the catalyst SWHC needs to push the shares higher.
At least, it's worth a shot.
Best regards and good trading,
Jeff Clark