Q: I'm concerned that the gold price got ahead of itself. Should I sell my mining stocks? – J.A.
A: The gold market today reminds me of the oil market in 2006.
Oil climbed all the way through midsummer 2008, when it peaked at $145 per barrel. Few people expected oil to go that high – including me. But my S&A Resource Report readers were in it for the whole run.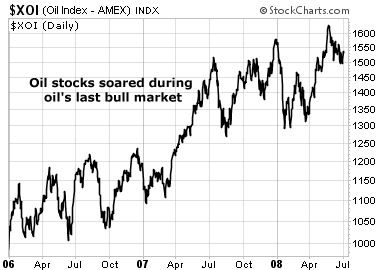 We held on to our winners, banking 27 double-digit gains. We even made 165% on Brazilian oil giant Petrobras before our trailing stop kicked us out.
The key to bull markets is to hang on to your winners.
The investing classic Reminiscences of a Stock Operator, by speculator Edwin Lefevre, tells the story of Mr. Partridge, who is advised to sell a stock then buy it back when it's cheaper. He says, "I couldn't possibly do that."
When asked why, he says, "Well, this is a bull market, you know!"
By the end of 2007, the price of a barrel of oil had climbed 90%, hitting $95. It seemed outrageous to me. But we had no reason to sell. It was a bull market.
The same is true in gold today...
In 2000, not many people imagined gold would run from $275 to over $1,000 in less than 10 years. And, yes, that's quite a run. But it's a bull market. Who knows how far it can go? I certainly don't.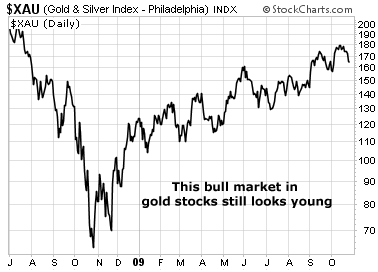 When the trend is up, you should ride along. Enjoy your gold stocks and the run in gold. Let the market – through trailing stops – tell you when to exit. It's a bull market, after all.
Good investing,
Matt