It's happening again...
Stocks are powering up to new 52-week highs, while the Volatility Index (VIX) – aka the "fear index" – drifts down to a new yearly low.
The inverse correlation between the VIX and the stock market shouldn't surprise anyone.
We've written about it
often enough in
Growth Stock Wire
. And it's well known on Wall Street sustained market rallies usually generate complacency among investors, which, in turn, creates a declining VIX.
What is less well known, however, is that after drifting down to a new low, the VIX has a nasty habit of suddenly reversing – especially if the new low is made during VIX option-expiration week. And the March VIX options expired yesterday.
Take a look at this six-month chart of the VIX...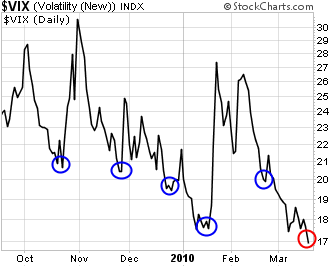 The blue circles highlight the last five VIX option-expiration dates. In each case (except for February), the volatility index spiked sharply higher right after option expiration. Spikes in volatility coincide with sharp drops in the market. So in each case (except for February), the market dropped as well.
All of these moves were forecast by VIX option prices. Let me explain...
Following October expiration, the November VIX call options were much more expensive than the November puts. When November options expired, the December VIX call options were more expensive than the puts. Ditto for when the December and January options expired as well.
The exception was after the February VIX options expired. March puts and calls were evenly priced. This was the only time in the past six months the VIX didn't spike higher... and the only time stocks didn't drop lower immediately following VIX options expiration.
So in four of the past five months, VIX call options were much more expensive than the puts following option-expiration day. The market sold off in every case.
Last month, when the puts and calls were evenly priced, stocks didn't sell off.
This brings us to today...
VIX options for March expired yesterday. The VIX closed at just under 17. The VIX April 17 put options are trading for $0.30 while the April 17 calls are $3.30 – eleven times more expensive.
Clearly, the options market is pricing in the potential for a sharp increase in volatility. And since higher volatility usually coincides with a lower stock market, VIX options are forecasting a sharp reversal here.
Best regards and good trading,
Jeff Clark