Isn't it nice that the Shanghai Stock Exchanged plunged 4.7% yesterday?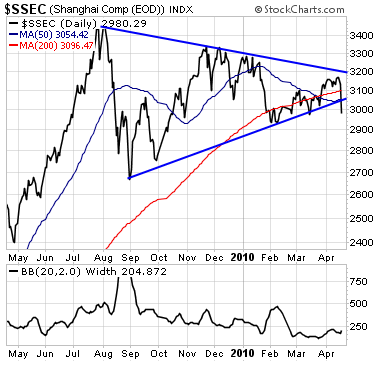 You can see the chart has broken through the bottom of its consolidating-triangle pattern. This has HUGE negative implications.
A consolidating triangle is formed through a series of lower highs and higher lows. Basically, a stock stays within a trading range, and the range gets smaller and smaller.
This consolidation time allows the stock to build up energy for the next big move. It's like water pressure building up inside a folded garden hose. Once you unfold the hose, the pressure releases and the water bursts out. The same thing happens to stocks when they break out of a consolidation pattern.
Yesterday's 4.7% drop in the Shanghai Stock Exchange was only the beginning. The pattern projects a move down to about 2,700, or another 10% lower. There may be a short-term bounce to come back up and test the breakdown level. Over the next several weeks, though, this market is headed lower.
There are several ways traders can profit on this trend. You can buy the ProShares Short China Exchange Traded Fund (YXI). This is an ETF designed to return 100% of the inverse performance of the Xinhua China 25 Index. It's not an exact match to the Shanghai Stock Exchange, but it's close enough.
Aggressive traders can buy the ProShares Ultra Short China Fund (FXP) – a leveraged fund that returns 200% of the inverse performance of the Xinhua China 25 Index.
For conservative traders, however, there's a better idea. Last month, I told my Advanced Income subscribers about a trade that could generate up to 50% returns by June. It could even profit if I'm wrong and China's stock market moves higher from here.
It's not too late to get in on the trade. For more information,
click here
.
Best regards and good trading,
Jeff Clark