Transportation stocks are running out of gas.
The Dow Jones Transportation Average has rallied nearly 20% in just the past 10 weeks. Airlines, railroads, trucking, and delivery service stocks have raced higher without obstruction, like Ferraris on the Autobahn. But the fuel gauge is now on "E," and it's time for a pit stop.
Take a look at this chart of the bullish percent index for the transportation sector (BPTRAN)...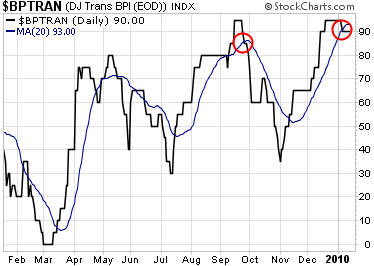 A bullish percent index (BPI) measures the percentage of stocks in a sector trading with bullish "point and figure" chart patterns. It's best used as a measure of overbought and oversold conditions.
When a BPI drops below 30, it means less than 30% of the stocks in the sector are trading in a bullish pattern. That's an oversold situation and suggests the sector is vulnerable to a bounce. On the other hand, when a BPI rises above 80, it indicates an overbought situation and suggests the sector may be poised to correct.
An overbought condition by itself isn't enough to trigger a short sell for the sector. Overbought conditions can get more overbought just as oversold conditions can get more oversold. But when a bullish percent index reaches an extreme condition and then reverses, it often provides the catalyst for a good trading opportunity.
As you can see from the above chart, the BPI for the transportation sector recently hit as high as 95. It's almost mathematically impossible for it to rise more than that. The BPTRAN turned down last week. And recently, it dropped below its 20-day moving average.
Moving-average crossovers have worked well to trigger buy and sell signals in the past. For example, back in September, the BPTRAN ran into overbought territory (above 80) and then turned lower and dropped below the 20-day moving average.
Transport stocks then entered a short-term decline phase. The Dow Jones Transportation Average dropped from a high of about 4,100 to 3,600 – a decline of 12% – in just six weeks.
We have a similar setup today.
If you own transportation stocks, you might consider taking some of the recent fast profits off the table. Aggressive traders should think about shorting the sector. The coming pullback could mean big profits.
Best regards and good trading,
Jeff Clark