This is it.
I promise, this is the last bearish commentary I'll write until the market finally decides it's time to turn lower. It shouldn't be too long from now. Take a look at this 60-minute chart of the S&P 500...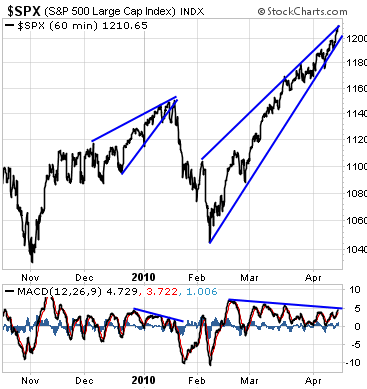 The S&P 500 is tracing out a bearish rising-wedge pattern, similar to what happened back in December and early January. The small wedge in January was accompanied by a series of lower highs in the Moving Average Convergence Divergence (MACD) indicator. The MACD measures momentum. And that negative divergence was a strong warning sign the chart was ready to break the wedge pattern to the downside.
I warned you about this pattern (
here
and
here
) as it was developing. When the market finally broke down, it wiped out four months of gains in just a few days.
Today's rising-wedge formation is much larger and far more exaggerated than what we saw in January. And the negative divergence on the MACD is much more pronounced. So we're likely headed toward a correction that is deeper and more painful than what we experienced in January. In fact, if this chart breaks through the support line of the rising wedge, the S&P 500 could give up all the gains since early February – roughly 165 points – faster than you can scream "SELL!"
By itself, this chart formation is enough to justify a cautious or bearish stance. Taken together with all of the bearish indicators I've written about over the past few weeks (like the
new low for the VIX
), this chart is downright scary.
At the very least, it makes sense to establish some bearish positions in order to hedge against a significant decline in the stock market.
OK, that's it. I promise I'll write something else next Tuesday.
Best regards and good trading,
Jeff Clark