In the past four weeks, I've written about the great opportunity investors have with natural gas right now.
I've already showed you how natural gas – which has been obliterated in price over the past two years – is cheap relative to its fellow hydrocarbon crude oil. (For the record, it's also cheap relative to "real money," gold.)
But there's an even more important "cheap number" I'll share with you today... one more relevant to your portfolio in the near term. The number is $5.50.
You see, the U.S. uses two major fuels to power its electrical grid. This is the grid that keeps your coffee hot and your beer cold. Those fuels are coal and natural gas. In many cases, a power plant can switch the fuels it burns to generate electricity. It all depends on how cheap or expensive the fuels are.
When the price is right, power generators can swap gas for coal. Today, natural gas fuels 23% of the electricity generation in the U.S. Coal supplies 45%. (Nuclear, hydro, and alternative-fuel plants supply the rest.)
According to Platt's, which tracks the coal industry, power plants began to switch from coal to gas in 2009 when gas fell to less than $5.50 per MMBTU (million British thermal units). Gas – which burns much more cleanly than coal – is trading for around $4 per MMBTU right now.
The government places tons of restrictions on burning coal (and more are on the way). Coal soot is full of harmful stuff – sulfur, nitrogen compounds, and metals (like mercury and lead). The EPA strictly limits these compounds. So power plants face three choices to limit that pollution – install an expensive filter to capture the pollutants before they leave the smoke stack, burn cleaner (but less efficient) coal, or use natural gas.
To show you how beneficial it is to burn gas versus coal right now, let me show you the coal-to-natural gas ratio.
The coal-to-gas ratio measures the price of each fuel per MMBTU. So when the ratio is 1, the amount of coal needed to generate one MMBTU costs the same as the amount of natural gas needed to generate one MMBTU. When the ratio is below 1, burning gas costs more than burning coal. When the ratio exceeds 1, coal is more expensive.
Typically, gas is too expensive relative to coal to justify the switch. From 1993 to 2002, the ratio bounced between 0.3 and 0.8. From September 2002 to October 2008, it stayed below 0.5.
Then, in late 2008, the price of coal began to rise just as the price of natural gas tanked. You can see the big spike in the ratio in the chart below.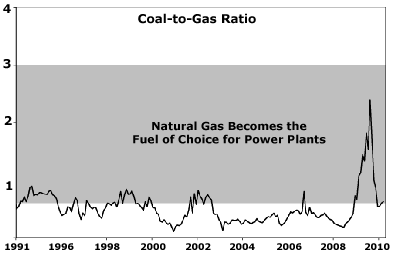 As you can see, this ratio has backed off from that crazy spike last year... but it shows natural gas is still cheap relative to coal. Natural gas is down big over the past two years... but I believe power plant conversion will help create a floor for natural gas... around where it's trading right now.
These conversions don't happen overnight. They aren't cheap. But over the long term, they play a big factor in limiting the fall in natural gas.
When I look at how cheap natural gas is relative to coal, and how governments around the world want to clean up their dirty power plants with natural gas, I can't help but be a buyer at these levels. If you're interested in profiting from energy, I recommend you do the same.
Good investing,
Matt Badiali