Seven years ago, at a private investment conference in Florida, the legendary speculator Doug Casey told me something I'll never forget...
Doug was discussing the enormous wealth-producing potential of gold mining and exploration stocks, should gold enter a bull market like it did in the late 1970s.
The late '70s followed the giant government handout programs of Lyndon Johnson, an expensive war, and the debasement of the U.S. dollar. Gold, which represents safety and "real money," soared during that time...
Doug pointed out that the gold stock sector is tiny compared to most other sectors – the entire gold mining industry doesn't even add up to ExxonMobil's market cap. So if the investment community rushes to invest in the sector, "it will be like trying to siphon the contents of the Hoover Dam through a garden hose."
Every trader should be on the lookout for assets that have the potential to rise three, five, or even 10 times in a matter of years. These opportunities are rare... so one has to keep a close eye on potentially explosive situations... like when the contents of the Hoover Dam try to flow through a garden hose.
Now, we are in a period of insane government spending, an expensive war, and the debasement of the U.S. dollar, which has lost about 33% of its value since 2002. And the debts the U.S. government has taken on are much larger than they were 30 years ago.
This backdrop makes me take notice of the recent "breakout" in the price of gold. The metal just reached its highest point in 90 days. (It also struck
an all-time high against the euro
last week.)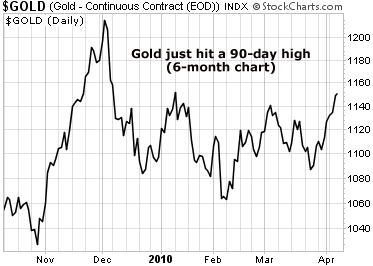 Is this the start of the "final unraveling" the Western world has been practicing for the past few decades? We can't say. But as my colleague Porter Stansberry often reminds us, the risks of some sort of currency crisis are huge right now.
We have a situation where half of Americans pay no federal tax... which ensures they will only vote for candidates who promise more handouts and more spending. We have politicians on both sides of the fence whose solution to the credit and debt problems of 2008 is to extend more credit and take on more debt.
When I consider these problems, the explosive potential of gold stocks, the fact that the long-term trend in gold is UP, and the breakout you see above, I think it's insane that the average investor owns no gold... and no gold stocks.
If you're in this "insane" camp, it's not too late to buy gold. And if you're interested a speculative shot at making 10 times your money, become familiar with the gold stock sector immediately.
Good trading,
Brian