The U.S. government produced the largest monthly deficit in history last month at $220.9 billion. That's 14% higher than the previous record set in February 2009. And the deficit through the first five months of this budget year totals $651.6 billion, 10.5% higher than a year ago.
OBAMA! projects the 2010 deficit will hit an all-time high of $1.56 trillion, besting last year's $1.4 trillion. So we've had no major bailouts this year, but the Fed is still spending increasing amounts of money it doesn't have. Time to start thinking about inflation.
Lots of talk about natural gas at the Cambridge Energy Research Associates conference... Tom Walters, a top executive at ExxonMobil, explained his company's bullish views on gas (courtesy of Rig Zone):
Walters joined a group of industry leaders to address a global gas plenary on "The Role of Natural Gas in the Future Energy Mix." He noted that despite the effects of the recent economic downturn, the long-term outlook for natural gas is positive.
"We expect global energy demand to increase nearly 30 percent in the next 20 years. By 2030, global gas demand will be around 140 billion cubic feet per day higher than 2009," he said.
The major driver of this demand is power generation, which will account for more than half of the gas demand growth, Walters said. He also emphasized the environmental benefits of natural gas as a source of power generation. "Natural gas is a cleaner-burning source of fuel and power generation that over the next 20 years will continue to form an increasingly important role in the global energy mix. This can be attributed to its advantages of lower carbon emissions and greater flexibility into power generation."
When the world's largest energy companies say natural gas is the world's future energy source, it's best to listen. These companies are the market. Plus, the world needs a cheap energy source cleaner than coal – especially in China.
While gas is up from its 2009 lows, it's still trading at one of its cheapest points in over five years.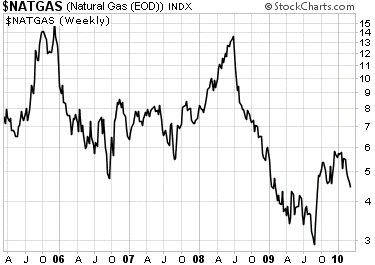 If you haven't already read Porter's issue explaining his bullish thesis on natural gas, do yourself a favor and
click here
. His recommendation is an unlevered, pure-play on gas. It's a super-safe way to profit from the rally, plus it yields nearly 8%. Also, in his Investment Advisory, Porter tells you the best way to protect yourself from the runaway inflation we mentioned above.
We launched an important new publication this week –
DailyWealth Premium
. Longtime subscribers are undoubtedly familiar with our
DailyWealth
e-letter, written by Steve Sjuggerud, Tom Dyson, and Brian Hunt. We launched the free service in 2005. It quickly became one of the most widely read financial dailies in the world, with more than 700,000 registered subscribers in more than 200 countries.
Don't worry – we're not changing anything about DailyWealth. If you're happy with the current DailyWealth, you're welcome to continue receiving it – for free. But if you're interested in upgrading, we're going to add an entire column of information that will show you exactly how we'd make investments based on the content of each day's DailyWealth. Steve Sjuggerud will write the extra investment column.
Each day, he'll tell DailyWealth Premium subscribers exactly which stocks, bonds, funds, currencies, and real estate to buy (or sell) based on what's written in that day's DailyWealth. We won't hold anything back – no more teases. We'll give you everything you need to know – stock symbols, buy limits, trailing stops, etc. Everything.
So how much would you pay for "full-disclosure" financial advice on a daily basis from Steve Sjuggerud – the most highly regarded analyst at Stansberry Research and one of the most highly regarded analysts in the world? Let's agree the service would at least be worth a cup of coffee. Say $2.99 per day. That's less than half the cost of a discount brokerage's commission on a single trade. Five issues per week brings the cost to $59.80 per month.
We think this extra content will be worth far more than the roughly $60 per month we could easily charge. In fact, we're a little worried DailyWealth Premium will render the rest of our newsletters obsolete. After all, if Steve Sjuggerud is telling you what to buy and sell every day, what more do you need? But even though it's worth a lot more than $60 per month, that's not what we're going to charge.
Nope. We're only going to charge $60 per year. Why would we charge such an incredibly low price? We hope the low price and the high quality of the content will allow us to reach vastly more subscribers. We want to reach more paying customers than any other financial information product in the world.
Regards,
Porter Stansberry