It was a "stealth" rally...
Over the first couple months of 2010, the U.S. stock market hovered around breakeven. Investors were too busy worrying about Greece's debt crisis, fourth-quarter earnings, and health care reform to notice what was happening over in my corner of the market.
While stocks in general crawled up about 2%, the benchmark Nasdaq Biotechnology Index staged an impressive double-digit rally. Take a look...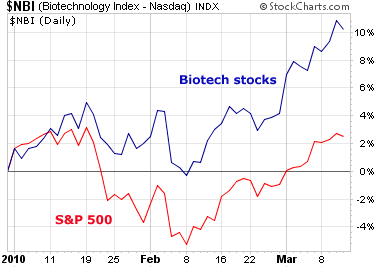 It was a huge jump. But almost nobody noticed... until early this month, when a new biotech bull market launched with fireworks and confetti.
On Monday March 1, Millipore, a laboratory supplier for the biotech industry, accepted a buyout offer from a German pharma conglomerate. The deal valued Millipore at $7.2 billion. That's more than four times revenue and a huge 15 times 2010 EBITDA (a 30% richer deal than I typically see in large-cap life-science takeovers).
On the same day, Japanese pharma Astellas made a $52-per-share cash offer to acquire OSI Pharmaceuticals, the biotech most famous for its lung cancer drug Tarceva. The deal values OSI at a 53% premium to its three-month average price and eight times sales. Incredibly, OSI's board swiftly rejected the bid as too low. Investors cheered, sending shares over $56.
The buyout fever continued this week, when health care conglomerate Abbott bought Facet Biotech, a pioneer in antibody technologies, for $27 per share – an astronomical 66% premium. Facet has no products on the market yet. But it has a potential blockbuster for multiple sclerosis in late-stage testing and a platform for discovering new antibody therapies.
Without industry expertise and years of practice, it's almost impossible to consistently pick individual winners out of the hundreds of publicly traded biotechs. A failed trial here or an FDA rejection there will wipe out your investment faster than a Vegas slot machine. Even a triple-digit uptrend in the sector won't protect you from a company-specific setback.
So for investors interested in grabbing a lot of the reward with a whole lot less risk, I think large, liquid exchange-traded funds are your best bet.
The SPDR S&P Biotech ETF (XBI) offers the most diverse exposure to both large- and small-cap biotech names. The PowerShares Dynamic Biotech & Genome Portfolio (PBE) includes life-science equipment, service, and consumable players, as well as household biotech names. And the Biotech iShares (IBB), the most widely owned biotech ETF, tracks the Nasdaq biotech index with minimal expenses.
Personally, I like XBI best. The 25 biotechs in the index are all prime candidates on Big Pharma's takeout list. Owning this index assures that you'll profit from the buyout fever.
Good investing,
George Huang