If you're a trader, you must know the big trend in geothermal energy is finally heating up...
Geothermal energy is a way of producing electricity. At certain spots around the Earth, usually at the boundaries of tectonic plates, heat reaches the surface of the planet in the form of molten rock, or magma. The molten rocks heat the surface water, producing steam. Geothermal companies harness this steam to drive turbines and produce electricity.
I love simple businesses. Geothermal is the world's simplest source of electricity. The power is cheap, it runs 24 hours a day, and it's clean. These characteristics make geothermal the ideal energy source for politicians who want to show the voters they care about climate change.
A few weeks ago, the Department of Energy announced it was granting $323 million to 123 geothermal companies in 39 states. And just before that, it announced a program for geothermal companies to get cheap loans, guaranteed by the government.
But here's the important thing: Geothermal is a profitable and economic business without government subsidies. The subsidies are just a bonus to pad our wallets.
As I told DailyWealth readers last month, geothermal is
Rick Rule's largest personal speculation
. Rick is a legend in the mining and energy industry. He says you can normally make 10% returns from geothermal energy, but with the government's subsidy, you can now make 18%-20% returns per year.
I've been waiting to get into geothermal until Ormat Technologies reached a major new high. Ormat is the elephant in the geothermal industry. It's the industry leader with a market cap of almost $2 billion... You can't develop a geothermal business in America without doing business with Ormat.
If there's a boom in the geothermal business, Ormat's stock will reflect it. Now, here's where it gets interesting...
Ormat just broke to a new 13-month high.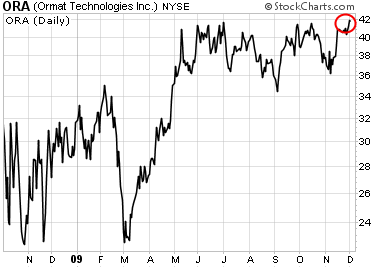 Trend traders don't rely on economic predictions. They don't place "price targets" on assets. They know history constantly proves economic predictions and price targets are no better than coin flips.
The best trend traders simply locate assets with massive upside potential – like geothermal stocks (and
silver stocks
as we covered this summer) – and wait to see a bit of price strength before taking a position. They wait for the market to confirm their fundamental analysis.
How high can geothermal run? No one can say for sure. But the smallest stocks in the sector have the potential to rise hundreds of percent... and the bellcow of the sector, Ormat, just broke out to a new high. It's time to get long.
Good trading,
Tom