"Base metals" is the term used for the workhorses of the metals complex. They aren't flashy, like gold or silver. In addition to copper, we're talking zinc, tin, and nickel. These metals are used in steel production and various manufacturing applications.
I think they're all going to fall in price soon...
I've spent the last two essays telling you that "reported" copper stockpiles are near extraordinary highs right now... and several insiders believe there's
even more "unreported" copper supply
held by speculators and hoarders in China. But it's not just copper being hoarded...
Take zinc for instance. Zinc is a base metal whose chief application is for galvanizing steel to prevent rust. Like every base metal, the supply-demand dynamic follows a simple pattern. When people don't want something, prices fall and warehouses fill up. And when something is in demand, prices rise and warehouse supply plummets.
Here's how that's played out over the last decade...
From 2001 to 2004, you couldn't give zinc away. The warehouses filled up and the price languished around $0.35 per pound. The market hated the metal so much that one zinc company, called Zinifex, paid an 18% dividend and traded for the ridiculously cheap price of two times earnings (most mining concerns usually go for eight to 15 times earnings).
Then, in early 2005, the manufacturing and construction boom began to consume the supply of zinc in the warehouses... and the price started to climb. It soared up over $2 per pound. That's an astronomical 470% rise in five years.
As the building boom waned in 2007 and the credit crash hit in 2008, zinc underwent a huge decline. By late 2008, the price had fallen back to $0.50 per pound... and supplies in the London Metal Exchange warehouse had ballooned from 62,650 metric tons at the price peak to over 345,000 metric tons.
In late 2008, the price of zinc began to climb again... but so did the stockpiles in warehouses.
Since then, the price of zinc has more than doubled, from $0.50 to $1.12. And we've added another 200,000 metric tons to storage, for a total of 540,000 metric tons.
This doesn't make sense.
In the last 17 years, the price of zinc never moved in step with the supply... until now. Today, zinc buyers are pushing prices up. But they're not actually using the stuff. Take a look...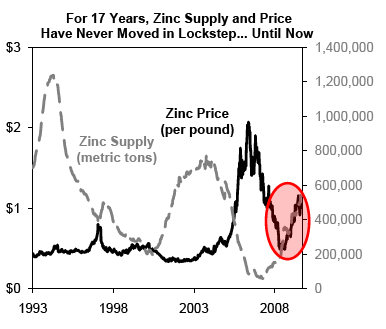 The price of zinc shouldn't rise with more supply, unless it's driven by speculators betting on inflation.
Speculators are betting the value of paper money will fall, relative to "real stuff." So they're borrowing paper money and buying hard assets, like zinc.
According to the London Metal Exchange, the world produced about 11.3 million metric tons of zinc in 2007. So... with 540,000 metric tons in storage, we have about 5% of the world's annual zinc production locked up in the London Metal Exchange warehouses alone.
That's like making all the zinc mines in the world send their metal to the warehouses for three weeks straight.
I think this is hoarding for profit. Speculators are buying zinc to bet on a price increase. However, as with any commodity, when hoarders get their fill, it only takes a lack of buying to hammer the market.
Historically, when you have over 500,000 metric tons in storage, the price of zinc should be around $0.50 per pound... that's a 50% decline from here.
There are no liquid "pure plays" on zinc prices for U.S. investors. I'm writing this to illustrate that most of the base-metals complex is a center of hoarding right now... prices have skyrocketed as a result. Make sure you don't own any of the stocks that will suffer from a price collapse. And make sure you're around to pick up bargains after the inevitable decline.
Good investing,
Matt