This is how the boy who cried "wolf!" must have felt.
For the past few weeks... er, make that months... I've been arguing the rally off the March lows is unsustainable. It's the beneficiary of phony government stimulus and not the result of true economic improvement. When the stimulus ends, so will the rally.
And for the past few weeks... er, months... I've been waking up every morning with egg on my face. Stocks keep trudging higher, like Sherpas climbing Mt. Everest, and my e-mail keeps filling up with comments from readers suggesting I stop fanning the flames of doubt and instead join the march.
"Stop crying wolf!" one reader wrote. His comment was spurred by my
December 23 article
in which I wrote that the S&P 500 was tracing out a potentially ominous bearish rising-wedge pattern with negative divergence.
Here's exactly what I wrote...
There is still some room inside the wedge pattern for the S&P to continue higher. But the chart is nearing an apex. And if the negative divergence continues, the next big move will likely be to the downside.
That statement is what the reader referred to as crying "WOLF!" He felt I was unnecessarily alarming people about an event that may never happen.
It's important to point out, however, that in the old Aesop's fable... the wolf eventually did come.
Stocks have continued higher inside the wedge. But now they're running out of room and we're reaching a major decision point. Take a look...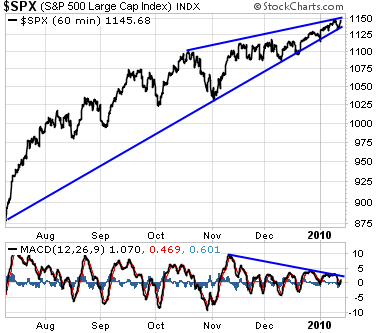 Stocks could break this wedge to the upside. If they do, then the bulls can continue to celebrate and I'll buy a few extra napkins to deal with the additional egg on my face.
But if the S&P breaks the wedge to the downside... OK, now... here it comes...
WOLF!
It is crucially important to the bullish case for the support line of this wedge to hold. That line is currently at about 1,128. If the S&P 500 breaks below that level, the most likely next area of support is down around 1025. That's 120 points lower than yesterday's close and represents a potential decline of about 11%.
Negative divergence is prevalent on the MACD indicator. And investor sentiment – a contrary indicator – is as bullish as it has been all decade.
No one is expecting the wolf. Unfortunately for investors, that's usually when he shows up.
Best regards and good trading,
Jeff Clark