Traders witnessed a rare event on Tuesday.
For only the fourth time in two years, the Volatility Index traded below its lower Bollinger Band and then closed back above it. (It sounds technical... but stick with me. It's important, as I'll show.)
On two of the other three occasions, the VIX exploded higher almost immediately... accompanied by strong declines in the stock market. The other occurrence led to a fast 10% pop in the VIX and a short-term market decline.
Take a look at the chart...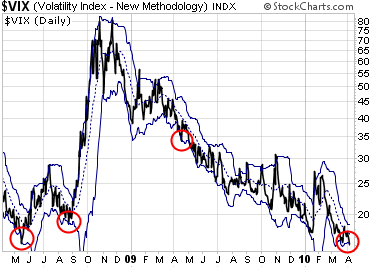 The VIX is a measure of stock market volatility and investor fear. On Tuesday, fear sank to its lowest level in two years.
Bollinger Bands – the blue lines – are used to measure the most likely confines of a chart's trading range. So, in this case, the Bollinger bands indicate the potential volatility of the Volatility Index.
It is rare for the VIX to trade outside of its Bollinger Bands. When it does, it often leads to a sharp and sudden reversal in the other direction. That was certainly the case in May and August 2008. The VIX rallied 75% and 300%, respectively. Each of those rallies started with the VIX at depressed levels below 20. And each of those VIX rallies coincided with sharp declines in the broad stock market.
The VIX traded below its lower Bollinger Band again in April 2009. The following bounce, however, was short lived, and the VIX fell even lower two weeks later. That instance, though, started with the VIX already trading around 35 – an arguably elevated level.
The situation today resembles the former cases more than the latter one. The Volatility Index closed Tuesday near 16 – the lowest reading in two years. Investors are complacent and have enjoyed 39 trading days without so much as a 1% decline.
It feels as though stocks are a one-way upside bet.
The action in the Volatility Index, however, is suggesting otherwise.
Best regards and good trading,
Jeff Clark