There's trouble heading toward Europe...
I monitor a list of 87 exchange-traded funds (ETFs). As part of my Penny Trends service, I calculate the three-month performance for each ETF and rank the list by performance each week. This list immediately tells me where the big trends in the world are... both the strongest and the weakest.
The ETFs for Ireland and Austria are at the bottom of our list. Then, there's Italy, Spain, and Switzerland. They're all in the bottom 20. There's no ETF for Greece, but the Greek stock exchange is plummeting, down over 25% since October...
Could the European Union be about to break up?
The U.S. dollar... has been falling for months. It's been among the dregs of my ETF list all year... never moving far from the bottom. The U.S. dollar bottomed at Thanksgiving and has exploded higher. The PowerShares Dollar Index Bullish ETF (UUP) is currently breaking out to new three-month highs.
In the currency world, the euro is the dollar's most important competitor. When the euro rises, the dollar falls. And when the dollar falls, the euro rises. While there are other important currencies, like the yen and the pound, professional traders mark the dollar against the euro.
The euro is six spots from the bottom of our list, and it's been plummeting for a month. The Christmas and New Year holidays gave it a respite, but the trend is still very much down. We're expecting the bloodbath in the euro to continue.
So if you want to bet against the euro, the trend is in your favor. Another way to bet against the European Union would be to bet against the stock markets there. If things get truly bad in Europe, its stock markets will get clobbered. And as I just showed you, some European countries are displaying price weakness...
One way to play a potential decline in European stocks is with the ProShares UltraShort Europe ETF (EPV). This fund soars when European stocks fall. Here's the 12-month chart of this fund: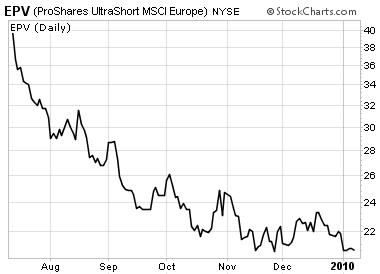 I wouldn't buy EPV right now. Yes, we're seeing some weakness in selected European stock markets. But Europe's three most important stock markets – London, Frankfurt, and Paris – are still near their yearly highs.
I'd like to see a little more price weakness... a little more confirmation from the market that this idea is valid. As you can see, the market is saying "not yet." EPV is still in a downtrend.
I recommend keeping an eye on this trade. If EPV reverses its bear trend and breaks out to new highs, it could be a great way to profit from a serious "Euro" problem.
Good trading,
Tom