The Chinese growth miracle is hogwash.
At least, that's the opinion of famed short seller Jim Chanos – who is most noted for uncovering the fundamental flaws with Enron. In a recent report put out by his hedge fund, Chanos compared the credit expansion in China to the U.S. subprime market and the housing boom before they went bust.
"It's Dubai times 1,000," he says.
Forbes
has also
joined the "bearish on China" party
... A recent article points to "a speculative frenzy of borrowing" and "government bureaucracies foisting debt on state-owned business enterprises."
Nothing says "bubble" like a rapidly increasing pile of debt. And right now, there is no bigger credit excess than the Chinese market.
The Chinese stock market is a balloon looking for a pin. By the look of the following chart, it may be close to finding it...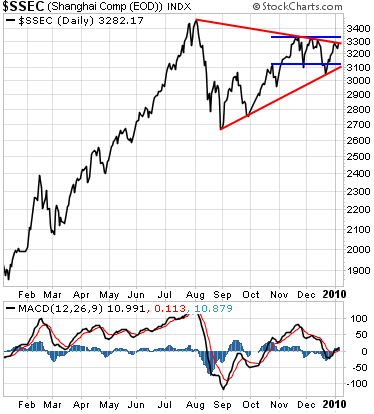 The Shanghai Stock Exchange peaked in August and quickly fell 20% the next month. It has bounced higher since then, spending most of the past two months confined to a rather tight trading range. The blue lines on the chart show the support and resistance levels.
The red lines show a bigger picture and a much more powerful consolidating-triangle pattern. When a chart breaks up or down out of a consolidating-triangle pattern, the potential move is equal to the height of the triangle itself. On this chart, the top of the triangle is just above 3,400 and the bottom is at about 2,700. So the Shanghai stock market is poised to make an explosive move one way or the other.
Given that the chart is bouncing up into its resistance line, now seems like as good a time as any to sell China short. There's the potential for a huge move here. And if Jim Chanos and Forbes are right, there's a lot of money to be made as the China bubble pops.
Best regards and good trading,
Jeff Clark