Many professional investors have a simple investment system for acquiring shares of search engine powerhouse Google (GOOG).
Google is one of the world's most popular stocks... and it usually spends its time trending higher. When the stock does correct, many investors buy huge chunks of shares.
In the past two months, Google has suffered just such a correction. Shares are have been clobbered in the past month, falling from near $600 in April to $490 today...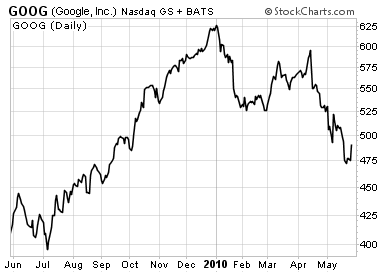 This sort of correction has a lot of investors hitting the "buy" button on Google shares. After all, it's considered the world's best brand... Almost everyone "Googles" something every day. And it's an incredibly high-margin business.
It could also look attractive based on fundamentals. It has over $80 in cash per share and carries no debt. After correcting, it now trades for around 14 times earnings, its lowest multiple since 2004.
But I'd hold off on buying here. I have a better idea for you...
You see, Google gets lots of press for being a super growth stock, but what most people don't realize is that Google's growth is slowing.
Google sales grew more than 50% from 2006 to 2008. But from 2008 through 2010, sales are growing by just 7%.
The slowdown in growth doesn't mean Google is a bad company. In fact, it's quite the opposite. The company watched its sales grow from $10 billion in 2006 to an estimated $25 billion in 2010. It's much more difficult growing a $25 billion sales base than a $10 billion base.
However, Google is a "one product" company. Over 90% of its revenue is from advertising. And according to comScore, which provides monthly Internet search data, companies like Microsoft and Yahoo are beginning to take market share.
Also worth noting... there are some odd things going on internally with Google. The company's CEO Eric Schmidt said he won't be on conference calls anymore (bad timing with the stock falling). Google just left China. For a company dying for growth, it's a questionable move. And while moderate amounts of insider selling don't bother me as an investor, Google insiders are selling major amounts of stock.
Considering this, I'd rather buy Apple.
Apple trades at 16 times forward earnings. It's growing sales by 22%.
iPhones are flying off the shelves. Analysts project at least 38 million will be sold in 2010. That's about 30% more than last year. Apple launched the iPad on April 30. In less than one month, the company sold 1 million units. Some industry professionals predict 8 million iPads will be sold this year.
Almost every customer buying an iPhone or iPad buys apps. Apps are web applications that can be downloaded through Apple's online store for a fee. Plus, Apple is just beginning to penetrate the China market.
Compared to Google, I think Apple is a much better play based on growth and fundamentals.
Good investing,
Frank Curzio