Short-term traders should buy into this morning's decline.
Stocks have declined for nearly two weeks straight, with last Friday's meager one-day rally providing the only relief. The S&P 500 is 15% lower than where it was one month ago. And by the look of the action in the overnight futures markets, stocks will lose another 1% this morning.
But that should just about do it. For now, anyway.
The market's bungee cord has reached the point of maximum elasticity, and it's time for it to snap back in the other direction.
You see, it's rare for the S&P 500 to stray too far away from its 20-day exponential moving average (EMA). The EMA takes the average of the closing prices from the past 20 days, giving more weight to recent days. During normal times, the S&P 500 will stay within about 30 points above or below the EMA. During extremely volatile conditions, the distance may stretch to about 50 points.
Yesterday, the S&P 500 closed about 57 points below the 20-day EMA. This morning, it'll drop even farther.
We're talking about a once- or twice-in-a-decade type of move.
Take a look…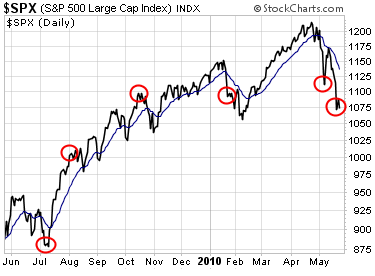 All of the red circles indicate times when the S&P 500 was more than 30 points away from its 20-day EMA. In every instance, the index reversed course and made a short-term move back toward the line. Indeed, each circle marked a good time for traders to bet against the intermediate-term trend.
Most of these trades over the past year, however, were easy. There wasn't a lot of fear in the market. Volatility was trending lower. It seemed like a perfectly logical and rational trade.
Today, stocks are stuck in an intermediate-term downtrend. And yesterday the S&P 500 closed 57 points below its 20-day exponential moving average. Traders should be drooling over the potential to buy into this setup.
But the trade is tough to make. Fear is running high. Volatility is increasing. And betting against the trend feels riskier than usual.
Of course, that's usually when the payoff is biggest.
Best regards and good trading,
Jeff Clark