We now know why U.S. Treasury yields have been falling over the past three months (from as high as 3.99% to 3.19% today). Investors purchased the most Treasuries since November, according to a Treasury Department report out this week.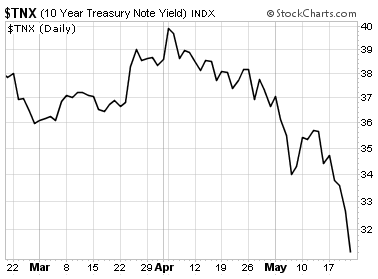 Net buying of equities, notes, and bonds totaled $140.5 billion in March, more than double projections. Net buying in February was only $47.1 billion.
We suspect investors' renewed interest in U.S. securities is more than a "flight to safety." It's about the crumbling euro. As the U.S. ramped up debt amid the financial crisis, countries started buying the euro to hedge themselves. Now, they're dumping.
Also, as the euro falls, countries are under pressure to weaken their currencies... Specifically, China is under pressure to weaken its currency because Europe is the largest consumer of Chinese goods.
To weaken your currency, you must sell it and buy another currency. If you're China, would you rather buy the euro, yen, or U.S. dollar? In this miserable trio, the U.S. dollar is king.
Every country wants a weaker currency so it can export more goods. But the only way to weaken your currency is to make bad investments. These economics make sense to a central banker – more exported goods means more jobs and a higher GDP – but it baffles us. Why would you fundamentally weaken your entire nation for one good year of exports? It's like breaking all the windows in your town, so you'll experience a building boom.
In addition to going after Wall Street banks like Goldman Sachs, the government is also dipping its grubby fingers into the credit-rating agencies. From the Journal:
The 64-35 vote Thursday represents one of the strongest moves yet by Congress to change how business is done on Wall Street. The amendment aims to resolve what's considered one of the thorniest problems in financial markets: Bond issuers choose ratings agencies and pay for ratings, meaning raters' revenues depend on the very firms whose bonds they are asked to judge.
Under the new proposal, the SEC would play middleman between the company seeking the ratings and the rating agencies. A government board would select – through lottery or rotation – the firm to rate the debt. This oversight committee would only apply to structured securities – like packaged mortgage bonds or credit-card loans.
There's no doubt the current ratings-agency system is flawed. The company issuing the debt should not be paying the ratings agency to rate it – an obvious conflict of interest. Nor should the burden be placed on the company investing in the debt. It could just as easily pressure the rating agencies for advantageous ratings.
In short, you can't have interested parties influencing these transactions with payments. Period. As hedge-fund manager and rating-agency critic Bill Ackman told Bloomberg, Moody's and S&P effectively acted as "underwriters" of the debt offering. A company couldn't sell debt without an opinion from one of these companies. These opinions are too powerful to be potentially corrupted.
While the government's proposal addresses the principal conflict, government intervention is not the answer.
The best solution we can think of is independent publishers, like Egan-Jones, tackling ratings. Egan-Jones sells its information on a subscription basis, just like we do. Customers only renew if they're pleased with the information they receive. And we think Egan-Jones' opinions are far superior to those of Moody's and Standard & Poor's. If an investor isn't happy with the coverage he receives from Egan-Jones, he can switch services.
The answer is more competition and free markets... Not a government-sponsored lottery where every rating agency will get their turn.
Matt Badiali recently released new research to
S&A Resource Report
subscribers describing his favorite way to play gold. In it, Matt describes a special gold investment he calls a "gold bank." This investment isn't a mining stock, gold bullion, or even an ETF. If you had purchased this investment in 2001, you would have earned 1,667%... Buying 10 years earlier would have increased your returns to 9,700%. And it still has much farther to go.
I can't share too many details here, for fear of giving away the investment. But this opportunity is one of the
best and easiest ways to invest in gold
. It's low-risk, and it has huge upside from here – even if gold doesn't rise any higher. To read more,
click here
.
Regards,
S&A Investment Research