Yesterday I bought Goldman Sachs (GS).
Yes, I know Goldman is Satan in disguise. The firm has manipulated Wall Street, bought off Washington D.C., and has made a joke out of doing "God's work."
So, why would I buy stock in the devil?
Well... I couldn't resist this chart...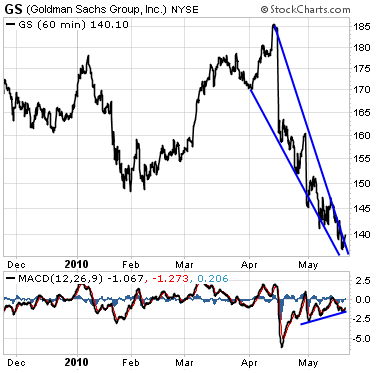 This is a classic falling-wedge pattern. It's made up of a series of lower highs and lower lows, where the distance between each high and low gets smaller. Eventually, the support and resistance lines draw close together, and the chart has to break out of the pattern.
Whether it breaks up or down often depends on the momentum behind the decline. To measure momentum, I use the Moving Average Convergence Divergence (MACD) indicator. If the MACD is declining along with the stock, the momentum is strong and the downtrend is likely to continue. On the other hand, if the MACD is rising while the stock is falling, this "positive divergence" is a strong signal the downtrend is likely to reverse.
This chart is nearly the exact opposite of the rising-wedge pattern on the S&P 500 I warned you about in mid-April. Much as a rising-wedge pattern will often break down and create a severe decline, a falling-wedge pattern often precedes a sharp rally.
So, as much as I hate to say it, Goldman looks ready to rally. There's probably anywhere from 8 to 12 points of upside in the stock, based on this chart pattern.
And if Goldman is going to rally, then the rest of the market will probably hold up as well.
Of course, this is a short-term chart. While I'm willing to bet on the upside over the next few days, I have no intention of sticking around much longer than that.
After all, if you hang out with the devil for too long, you're bound to get burned.
Best regards and good trading,
Jeff Clark