"Lower oil prices will spur the economy!"
That was the rallying cry often repeated by the CNBC talking heads over the past week or so. It's the one piece of good news investors can hold on to as global asset prices dive into the abyss.
Housing prices keep falling. European bonds are getting crushed. Income growth is non-existent. And stocks have taken a bath over the past two weeks. But the price of oil has fallen as well. And since the price of oil affects nearly all other goods and services on the planet, life as we know it just got less expensive. At least, that's the way the cheerleaders are spinning it.
But the way I see it, oil prices are ready to bounce.
Let me explain...
Like just about every other asset – except for gold and the U.S. dollar – oil has dropped like a stone for the past two weeks. Take a look at this chart of West Texas Intermediate Crude...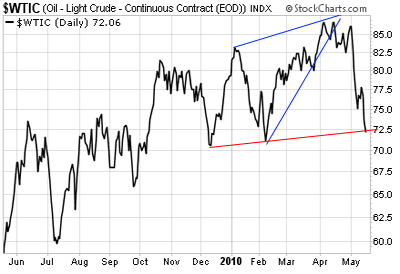 The blue lines on the chart trace out a bearish rising-wedge formation. The price of oil broke down below its rising support line in mid-April, came back and tested the line by early May, and then collapsed.
It's a classic pattern we've seen play out many times – most recently when the
S&P 500 broke down as well
. Of course, now the question is... Where do we go from here?
Oil has fallen over $12 per barrel, which is the height of the triangle and the targeted potential move for this pattern. And there's a rising support line just below yesterday's low oil price at $72.50. There's not much more room left to the downside. In fact, yesterday's low of $72.77 per barrel may prove to be the low price for this move.
It's time to get ready for a bounce in crude oil. After all, if there's not much more downside, then there must be some upside.
A logical upside target is $80 per barrel – which represents a retracement of 50% of the downside move, and brings crude oil all the way back to its previous support zone.
That's not a huge bullish move. But it's enough to spark a little life into the beaten-up oil stocks. If you're looking to play a bounce in the market, you ought to look at the oil sector.
Best regards and good trading,
Jeff Clark