Homebuilders have plenty more upside.
On March 15, I told you homebuilders made for a great speculation... You see, a couple of monstrous boondoggles just hadn't been priced into the stocks.
In November, the government signed into law a tax break allowing homebuilders to "carryback" their losses against five years of gains. Previously, the law only allowed homebuilders to carryback losses for two years.
To put this in perspective, homebuilders had zero profits over the past two years. Most reported billions of dollars in losses. However, if you go back five years, homebuilders generated record profits.
Bottom line: The law change allowed homebuilders like Pulte and Hovnanian to receive $200 million to $800 million of free money. Add to that a bunch of first-time homebuyers rushing to close the deal before their own boondoggle expired, and you've got a lot of cash hitting homebuilders' balance sheets.
Since that essay, the big homebuilder fund I mentioned (XHB) has been up as much as 18%. Pulte and D.R. Horton both climbed double digits.
Recent weeks have pulled the stocks back a bit. But they've still trounced the S&P 500 over the past two months. Take a look...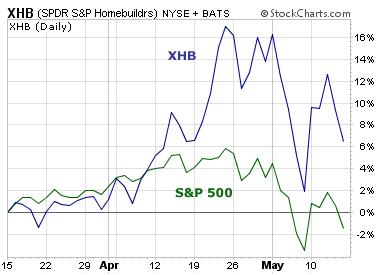 Today, I think homebuilders are still a strong buy. Let me show you a few reasons why...
According to the National Association of Realtors, home prices were higher in 91 out of 152 major U.S. cities this April, compared to last April. In other words, 60% of the biggest cities saw home prices rise. Last year, home prices declined in 56% of major cities.
The average 30-year fixed-rate mortgage is below 5%. That's the lowest level this year. The lower the interest rate, the more affordable homes become for buyers. In my first homebuilder writeup two months ago, mortgage rates were above 5%. So these numbers are getting even better for homebuilders.
Foreclosures are declining. RealtyTrac, which keeps the largest database of foreclosed properties, said April's foreclosure filings are down 2% from last year. That's the first year-over-year decline in more than four years.
All this data tells me a bottom in housing is here. But don't take my word for it...
Last week, expert speculator John Paulson said he expects home prices to jump 10% nationwide in 2011. Paulson runs one of the largest hedge funds in the world. He's famous for making billions betting against the housing market.
In other words, few people know more about this industry than Paulson. After making billions shorting the housing market, now he's bullish.
As I said, most homebuilding stocks saw a mild pullback in the past couple of days. That's expected after the short-term run-up. I suggest using the pullback as a buying opportunity.
Good investing,
Frank Curzio