We're starting today with a word from Frank Curzio, Stansberry & Associates' newest editor. Frank is an expert in small-cap stock analysis and he recently took over
Phase 1
, our most exclusive service, focusing on emerging technologies.
While researching companies, Frank discovered an opportunity surrounding a massive shortage in the world's greatest growth story... China.
Here's what Frank had to say...
Right now, the Chinese have a serious problem. And I've found a tiny Chinese company addressing it. After several months of research, I can tell you it's one of the
best stock opportunities
you'll see this year.
In short, China is literally running out of food.
Strange, I know... that such a large country (in terms of land mass) could be running out of food. But thanks to poor farming techniques, deforestation, droughts, and pollution, China's arable land (the land where it can grow crops) has shrunk by 6.4% since 1996... and by some estimates it will continue to shrink by 3% a year.
What does that mean, exactly? China's own experts predict by 2020, they could lose 16.5 million acres of additional farmland.
That's a lot of land, even by Chinese standards. It represents an area larger than West Virginia, Hawaii, Maryland, Massachusetts, Vermont, New Hampshire, New Jersey, Connecticut, Delaware, Rhode Island, and Washington D.C., combined.
Obviously, this is a major problem for a country with 1.3 billion people. But here's the incredible part...
The Chinese government is turning its immediate attention to this problem. And it's going to rely on a tiny Chinese company, which has invented and patented a technology that could dramatically improve China's food problem... and potentially make early shareholders a lot of money in the process.
I can't share exactly what this technology does... That information is for my Phase 1 subscribers. I can tell you, this new technology could allow farmers to make more money on their crops and livestock. The company has made a bold proposition to farmers: a 1,000% return for every investment made in this new technology. According to one case study, one farmer saw a 5,519% return on his money. At that rate, he could collect $55,190 for every thousand invested.
And this isn't some speculative, unproven company. It's already experienced spectacular growth. From 2006-2009, this tiny company increased its sales revenue by 2,551%, while at the same time increasing its net profit by 6,450%.
To put it another way: This company isn't just getting bigger, it's also becoming much more profitable in the process. And the company now has the infrastructure to push its products throughout China. It operates stores all around northern China, where farmers can walk in and buy this new technology. As of April 2010, these guys had opened more than 9,100 stores throughout China to sell their technology.
This company is going to help do for Chinese agriculture what the St. Louis-based agri-tech business Monsanto has done for U.S. agriculture in recent years. Monsanto has perfected certain technologies that make farming much more productive and efficient. As a result, the stock is up about 800% since 2003. But we expect readers can still make at least three times their money on this Chinese agriculture stock.
If you'd like to access the full details of Frank's research, we just published a
Phase 1 Investor
report containing everything you need to know about this opportunity. For more information, click here.
At the beginning of the year, we declared rising interest rates in the U.S. as "the single most important trend in finance."
We believe interest rates on long-term U.S. government bonds will rise to compensate investors for the increased risk of owning paper-backed sovereign debt. Our logic is simple: The more money the U.S. prints to bail out banks and other sovereign borrowers, the riskier the U.S. balance sheet becomes.
During the first half of 2010, the Fed has already spent $2 trillion to bail out Wall Street's banks and the U.S. mortgage market. And because the world's banking system uses the U.S. dollar as its reserve currency, the Fed will eventually be forced to bail out Europe's economy. Indeed, that's exactly what happened last weekend. The U.S. Federal Reserve has officially become the world's lender of last resort.
We would humbly suggest these policies will likely lead to a permanent loss of value for holders of U.S. dollars.
Why are we so concerned? Printing money to bail out borrowers around the world will not solve the problems of overleveraged governments or debt-ridden economies. It simply shifts the risks from private balance sheets to the U.S. government's. The U.S. dollar has assumed all of these risks. Our currency has become a ticking time bomb.
You can watch the dollar die, one day at a time, by keeping your eye on the growing spread between the value of long-term U.S. bonds (TLT) and the price of gold (GLD). Over the last year – even as the U.S. economy apparently improved – the spread widened by about 35%.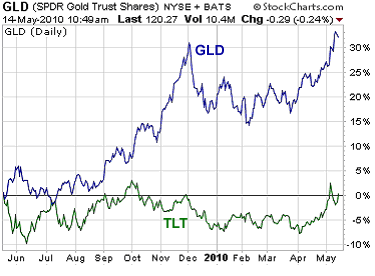 And these bailouts come with another ancillary problem: They make it much harder for entrepreneurs around the world to invest across borders. You can't price assets into the future when every government in the world is printing money. When entrepreneurs can't estimate the future value of different currencies, they stop investing.
To prove this point, consider the long-term rates businesses pay to borrow money. GE's current cost of capital is an unsustainable 5.77%. The company has more than $200 billion of debt coming due through 2012. And the government is guaranteeing GE's debt until 2012. When the government guarantee expires, how much do you think GE will have to pay to borrow money or roll over its debts? How much would you charge GE to lend it money for 10 years if you couldn't trade out of the debt?
These are very important questions. Their answers just got a lot more painful.
Regards,
S&A Investment Research