We have three charts today that show you just about everything you need to know to trade commodities successfully right now...
Our first chart is a trend we've been writing about for a long time...
the uptrend in gold stocks
, as represented by the big gold stock fund GDX. As you'll see, it's enjoying a series "higher highs and higher lows."
Driving this trend is a familiar story: In order buy maximum votes, governments around the world have taken on incredible financial obligations they can't hope to repay. This harms the value of their paper currencies... and drives the price of "real money," gold, higher and higher. The fundamentals are solid here, and the trend is UP...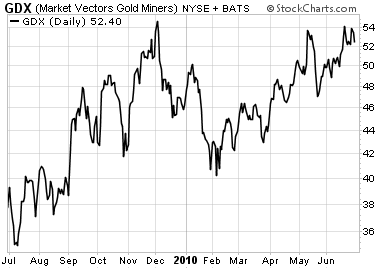 The next chart is a trend few investment firms are covering right now...
the terrific uptrend in U.S. natural gas royalty trusts
. As Matt Badiali explained months ago, natural gas has taken a massive hit over the past few years. It was sold off so heavily in 2008 and 2009 that this year's market weakness couldn't push it down any farther.
Considering natty is down so much, and investors have lost so much money, we consider it the "contrarian's commodity." Natural gas royalty trusts give you a high-income way to play this "gas is done falling" idea.
Like gold stocks, the uptrend in royalty trusts is plenty healthy, despite the horrid market. One of our favorite companies in this space, San Juan Basin (SJT) is enjoying a bullish series of higher highs and higher lows.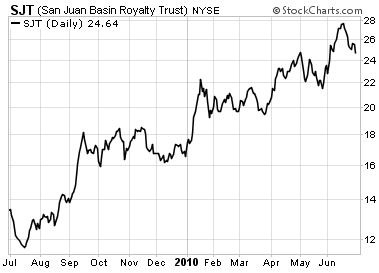 Our final trend to highlight is another shameless plug for the research you read every day in
Growth Stock Wire
. It's an update on the trend I highlighted back in May...
the end of the huge rally in economically sensitive mining companies
. I urged you to avoid companies that produce copper and iron ore... Their charts showed massive selling pressure at the end of long uptrends.
One poster child of this downtrend is the world's largest iron ore miner, giant Brazilian miner Vale (VALE). Like almost every copper or iron ore miner, the stock is locked in a series of "lower highs and lower lows." It was hammered yesterday for a 6% loss and is closing in on its lowest low in 10 months. If the global economic recovery fails to live up to its hype, that means lower iron ore prices... and a real clobbering for Vale.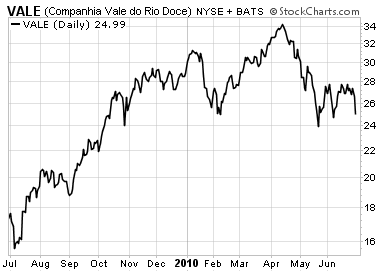 Two months ago, we expected to see gold and natural gas doing well... and Vale's breed of stocks not doing well. Our charts today show we were right. We expect these trends to continue... which means avoid base-metal miners, stay long natural gas trusts, and stay long gold stocks.
Good trading,
Brian Hunt