The bulls need some help this week.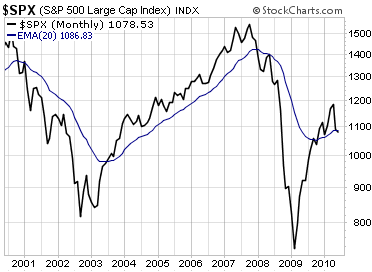 This is a monthly chart of the S&P 500 plotted against its 20-month exponential moving average (EMA). This is the best long-term indicator for determining bull and bear markets.
If the S&P 500 is trading above its 20-month EMA – the blue line on the chart – then stocks are in a bull market. On the other hand, if the index drops below the blue line, the bear is in control.
I've written about this chart many times over the years, most notably in
January 2008
at the beginning of the brutal bear market. The 20-month EMA is a terrific market-timing tool that does an outstanding job pinpointing important changes in trend. It won't get you out of the market at the exact top or get you into stocks at the exact bottom. But it does provide a reliable roadmap for the market's long-term direction.
As you can tell from the chart, the bear is about to wake from his 15-month hibernation.
The S&P 500 closed last Friday at 1,076.76. The 20-month EMA is at 1,086.66. So the index needs to gain at least 10 points by the end of the day Wednesday (the last day of June) to stave off the bear for another month.
Given the recent NYSI buy signal, I suspect the bulls will make a stand and the index will rally back above the line. If it doesn't happen though, all bets are off.
Short-term indicators won't matter. Investor sentiment won't matter. Valuations and earnings won't matter. Everything takes a back seat to the monthly chart and the 20-month EMA.
If the S&P 500 closes below 1,086.66 on Wednesday, you need to sell.
Best regards and good trading,
Jeff Clark