If you're looking for reasons to be bullish on the broad market – and oil stocks in particular – then you want to watch ExxonMobil (XOM) right now...
With a market cap of nearly $300 billion, ExxonMobil is America's largest public company. It's also considered one of the best-managed companies in the world. Its ability to value assets and use them efficiently for the benefit of its shareholders is legendary.
XOM is also a "go to" stock for large investors when they want to increase oil stock exposure. This makes it a vital stock to monitor. If XOM isn't working, it's a terrible omen for stocks... especially oil stocks.
XOM was crushed during last month's selloff. Crude oil suffered a major plunge in May, and the Gulf of Mexico disaster sent investors fleeing from oil stocks of all kinds. The selling was so severe that XOM traded down to its lowest level since 2006... even lower than the lows it set during the March 2009 panic.
Several weeks ago, in
DailyWealth
,
I noted that these 2006 levels
– around $60 per share – needed to hold steady in order for us to consider stocks in a positive environment... and not a full blown bear market. As you can see from the chart below, XOM has held that level: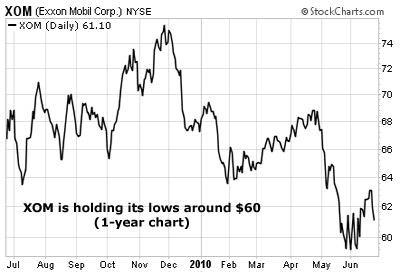 Jeff Clark has noted the oil sector is one of the most beaten-down sectors in the market right now... and many oil stocks are trading for cheap valuations.
This makes right now an attractive time for long-term investors to add to Big Oil holdings (like XOM)... and it makes it an attractive sector for traders to bet on a rebound in oil stocks. Last week, Matt showed you
why land drillers are a good bet on this idea
.
Whichever route you take to play this idea, travel it with XOM shares as one of your guides. As I mentioned, XOM is one of the best-managed companies in the world... and shares are cheap and beaten down.
I expect the stock to hold its lows around $60 per share. But if it can't, there's serious weakness in the market that will make just about any trade from the long side a loser.
Good trading,
Brian Hunt