The market is catching on to the idea I presented in back in May... the idea of
higher gold prices
in large-cap gold miners.
To recap, shares in big gold mining companies have been a disappointment for the past four years. While gold has more than doubled in price during that time, most big gold miners have barely made any gains... Some, like industry giant Newmont Mining (NEM), have moved sideways. Reason is, the costs associated with large mining projects (fuel, infrastructure, labor) climbed along with the end product's sale price.
But gold's huge surge from $950 an ounce to $1,250 an ounce has caused a huge change in the economics here. I mentioned in May how operating profits are now rising... And in the past few months, even laggards like Newmont blasted out to new multiyear highs: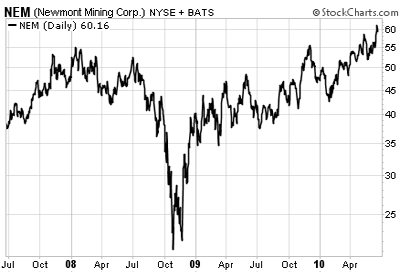 I think this recent move is just the beginning in the coming bull market in gold miners... And it's all based on earnings. Gold miners trade fuel and manpower for gold. With gold prices up so much and basic costs stagnant, profit margins and earnings power increase. To stay with our Newmont Mining example, the company's first-quarter earnings increased 168% since the first quarter of 2009... It's no wonder shares are rising.
Also keep in mind that even with the recent price strength, gold miners aren't expensive stocks on a price-to-earnings basis. If we take the first-quarter earnings from the three biggest miners (Barrick, Goldcorp, and Newmont), and project them out to one year, you'll see Newmont and Barrick are trading for reasonable multiples.

| | | |
| --- | --- | --- |
| Company | Trailing 12 Month P/E | Projected P/E |
| Barrick Gold | 30 | 15 |
| Goldcorp | 381 | 52 |
| Newmont | 18 | 14 |
Granted, these earnings projections depend on miners enjoying a strong gold price (above $1,100), but if you're bullish on gold like I am, it's reasonable to expect strong earnings here.
If folks jump on the gold stock bandwagon, I think we could see the gold miners trading for 20 or 30 times earnings... that implies a potential 100% increase just on valuation developments. Any further increase in the gold price is gravy. The market is catching on to this thesis, but as you can see, it's not too late to get on board the big miners...
More than 100% gains over the next year or two are easily possible.
Good investing,
Matt Badiali