Over the past eight months, I've been bullish on stocks.
Strong earnings, better economic data, and more government spending all made me optimistic overall. And record low interest rates made stocks an attractive asset class compared to low interest-bearing investments like Treasuries and CD's.
Morally, it wasn't easy being bullish. The government was restructuring mortgages for people who have flat-screen televisions in their bathrooms. Companies were reporting higher profits due to layoffs. Record low interest rates created profits for overleveraged financial institutions that were almost bankrupt less than 18 months ago.
However, my job is not to pass judgment on our government. It's to help my readers make money. Back in October, earnings estimates were conservative. I believed most of the risks – like record deficits and inflation – were longer-term problems.
Thus far, my thesis has been correct. Almost every major research firm has raised its forecasts for S&P 500 earnings over the past two quarters. The government continued spending money to prop up weak sectors. Inflation has been tame. Plus, stocks are up since October (even after the 10%-plus pullback in May).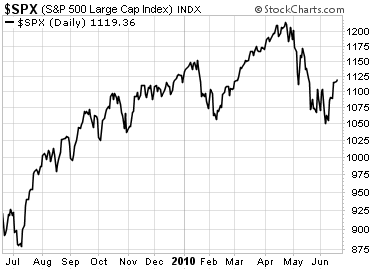 Which brings me to today...
Based on some alarming data released in the past 30 days, I'm not convinced stocks will hold these gains until yearend.
For starters, last month's job report was a disaster. The U.S. added 41,000 private-sector jobs... more than 100,000 short of expectations. Then, retail sales in May declined for the first time in eight months.
I don't place too much emphasis on one month of data. But if we see another weak jobs report followed by terrible retail sales, it could be the start of a trend.
Also, Best Buy (BBY) shares fell 6% after reporting weaker-than-expected earnings on June 14. The electronic retailer is a consumer gauge for discretionary spending. Management said television sales were at their lowest levels in two years. Plus, fewer people are buying video games and DVD's.
On June 16, FedEX (FDX) followed Best Buy with a negative earnings report. FedEx is also viewed as an economic indicator. The transportation company said its customers continue to use ground shipping compared to premium air services. That means consumers and businesses are still in cost-cutting mode. Shares also fell 6% on the day.
Maybe FedEx is being conservative due to the uncertainty in the markets... Maybe 3D televisions will drive revenues for Best Buy in the coming quarters... May's weak jobs and retail sales numbers could have been a one-time event...
We won't know until next month, when we see June's jobs and retail sales data. Also, earnings season will be in full swing.
I'll let you know where I think the market's headed when we get these numbers in mid-July. But until then, I suggest tightening your stop losses through earnings season.
Good investing,
Frank Curzio