Bears beware.
The stock market will rally over the next month. Here's why...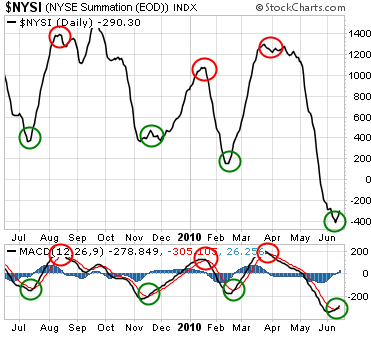 This is a chart of the New York Stock Exchange Summation Index. It's a momentum indicator with an excellent track record of identifying short-term turning points in the stock market.
The indicator generates "buy" signals when the short-term moving average convergence divergence (MACD) – the black line on the bottom graph – crosses up and over the longer-term MACD line – the red line. Buy signals are marked by the green circles on the chart.
"Sell" signals occur when the short-term MACD line curls down and crosses below the long-term line. Sell signals are marked by the red circles.
How it works, why it works, and what it all means aren't important. All that matters for short-term traders is to buy when you get a green circle and sell when you get a red circle.
Here's how the S&P 500 performed after each signal over the past year...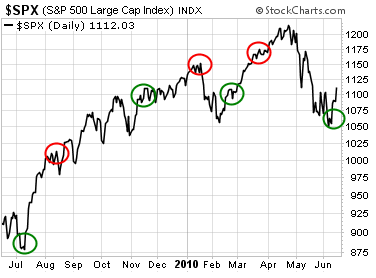 Five of the six trading signals were profitable. The only exception was the sell signal in August 2009. That trade lost 8% before the indicator reversed and generated a buy signal. The sell signal in late March was a bit early. But it paid off pretty well.
Overall, the NYSI signals have been accurate. They usually last between four and eight weeks. The buy signal we got last Thursday should keep the bulls happy and the bears frustrated at least until the middle of July.
It's difficult to be a buyer of stocks right now. But according to the NYSI indicator, it's the right thing to do. So hold your nose and buy. We'll sell sometime next month.
Best regards and good trading,
Jeff Clark