Based on the silly name, you'd think companies involved in "cloud computing" would've been trashed in the past month. After all, most anything that even sounds questionable is down at least 20% since April's market peak.
The thing is, "cloud computing" might sound like the latest fad for geeky tech analysts to jabber about at conferences... but it's one of the safest, biggest bets in the world right now.
Cloud computing is the all-encompassing term that describes your ability to save pictures, files, and data on outside storage networks. If you're sharing photos on Flickr or using Google to save spreadsheets, you're using cloud computing. While IT spending growth is in the low single digits, this trend is growing at about 20% per year...
And right now, in the middle of the worst market swoon since early 2009, cloud computing stocks are showing remarkable strength.
The closest thing to a giant "pure play" in cloud computing is VMware (VMW), which builds the infrastructure companies use to operate "on the cloud." Since the current bear raid started, shares of VMware have GAINED more than 10%.
Salesforce (CRM), the best example of a company offering services that operate fully "on the cloud," saw its shares rise 9% while the rest of the market crashed. It pulled back a bit this month before ramping toward its 52-week high. Shares are up just under 10% since April 23.
The outperformance of bellwether cloud-computing stocks really stands out when you compare it to the broad tech sector: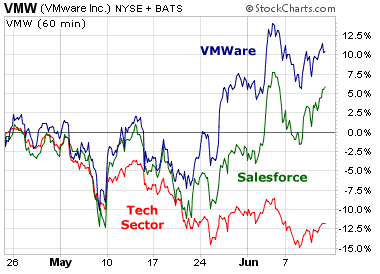 We all expect "defensive" stocks like Procter & Gamble and Wal-Mart to hold up during a pullback. But when "risky" growth stocks buck a broad downtrend, I really get excited.
You see, most investors hate going through a brutal selloff like the current one. But they tend to forget that broad market weakness helps separate the winners from the losers.
The common term for this is "relative strength."And it's usually a sign of good things to come.
To bet on the rise of cloud computing, you could take a position in VMware or Salesforce. I'm not a fan of chasing stocks at fresh 52-week highs, but I would definitely give both names a closer look if they fall back to their late-May levels.
Another angle is to pick up one of the companies that supply the software and other services used by the major cloud-computing players. A few names here that have mostly sidestepped the downtrend are Novell (NOVL), up 8% since the April 23 market peak; Red Hat (RHT), down less than 1%; and Tibco (TIBX), down less than 1%.
The long-term trend in cloud computing will inevitably be higher (you can read more about why
here
and
here
). And now, these stocks are brushing off the downturn.
Don't be surprised if they become leaders once the market regains its footing.
Good investing,
Larsen Kusick