All of a sudden, everyone loves the dollar.
It was only a few short months ago when the entire world despised the greenback. The euro was the currency of choice. And the favored trade was to be long the dollar and short the euro.
My, how times have changed.
The U.S. dollar index (USD) has been rising for six months and is 16% higher than when I first warned of an
impending dollar rally
back in September. Calling for a rally back then was easy.
Sentiment toward the dollar was so bearish
, and the anti-dollar trade was so crowded, the market was destined to go the other way.
That's how the market works. It coaxes everyone over to one side of the boat and then tips it over.
Today, it's the long-dollar trade that looks ready to capsize.
No one is bearish on the dollar anymore. Why should they be? After all, Portugal, Italy, Greece, and Spain are teetering on the edge of bankruptcy. Germany is withdrawing its support for IMF and European Union bailouts. And the euro appears ready to implode.
The U.S. dollar, in spite of the banana republic hijinks of our Federal Reserve Board, is once again a safe haven for what's left of the world's wealth. The most popular trade today is to be long the dollar and short the euro.
But if you're hanging out on that side of the boat, you might want to grab a lifejacket.
Take a look at this chart...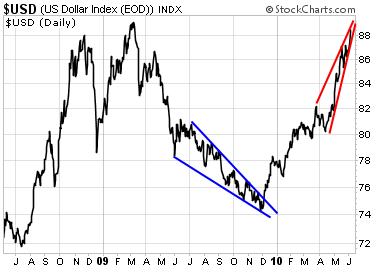 The dollar has rallied all the way back to the high it established during the financial panic in early 2009.
In doing so, it has traced out a bearish rising-wedge pattern (in red) – which is the exact opposite of the bullish falling-wedge pattern (in blue) that warned us of the impending rally.
Charts usually break out to the upside of falling-wedge patterns. And they break to the downside from rising wedges.
This looks bearish to me.
If you've profited off the long-dollar trade, congratulations. Now, however, it's probably time to grab something that goes up when the dollar goes down and head over to the other side of the boat.
A nice big chunk of gold or maybe a barrel or two of oil sounds good to me.
Best regards and good trading,
Jeff Clark