Last week, hedge fund manager David Einhorn destroyed one of the biggest real estate stocks in America.
Einhorn is one of the brightest minds in the investment business. He's achieved fame and generated fantastic returns for his investors with brilliant contrarian calls like shorting Lehman Brothers and buying drilling outfit Ensco during the Gulf of Mexico oil-spill crisis.
At the Value Investing Congress in New York last week, Einhorn "destroyed" high-profile real estate company St. Joe. He's short the company, and he says it's vastly overvalued. Shares fell more than 20% over the next two days, and it became the biggest stock story of October.
But there was a far more interesting presentation at the conference. One that's far more important to us as investors...
Amitabh Singhi is the managing director at Surefin Investments, an India-based portfolio money-management firm. Since 2001, his fund has returned over 29% a year. His presentation is called "The Emerging Indian Investing Landscape."
He highlights huge investment opportunities – which include over 1,000 listed small-cap companies with no investor coverage. In other words, investors have the opportunity to buy some of these small-cap companies ahead of the big banks and investment firms.
Singhi provided statistics I haven't read about or seen anywhere before. For example, cell phone companies are adding 20 million new customers each month. Also, over the next five years, India will add $1 trillion to its GDP and spend over $500 billion on infrastructure.
He also said India has to spend this much money on infrastructure or the country "will not survive." One of his slides included pictures of electricity wires bunched together and hanging in the middle of a street. Residents illegally rewire the power lines to provide electricity to their homes.
The huge growth taking place reminds me of
what I saw in China two months ago
. However, India is a much more difficult market to invest in. There are few individual companies that trade on American exchanges.
To take advantage of the growth potential Singhi is talking about, we will have to tap the ETF market. Three Indian funds I found are WisdomTree India Earnings (EPI), iPath India (INP), and the India Fund (IFN).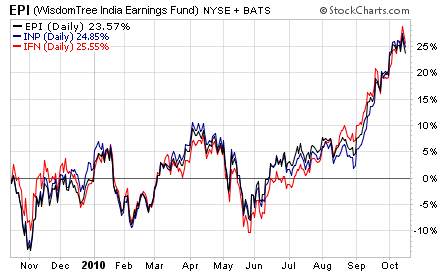 As you can see, all three ETFs are up huge since June and almost 100% correlated. But that will change going forward.
EPI only invests in large-cap Indian stocks. INP is an index fund designed to mimic India's stock exchange. It's also 100% invested in large-cap stocks.
The best play is IFN. It's the only one that invests in small-cap stocks – the ones Singhi mentioned in his presentation. In fact, I can't think of any other way to play India's small-cap market – unless you want to send your money overseas for someone to manage.
Singhi's presentation received far less press than Einhorn's. But you can make much more money following his ideas. After all, India's small-cap market has the potential to double and even triple over the next few years. The max gain on Einhorn's short is 100%.
I'd rather invest in the idea few people are talking about, with much higher potential.
Good investing,
Frank Curzio