You won't read about it in the mainstream news, but there's an important development taking place in the financial markets right now...
Silver, one of the world's most explosive assets, is on the cusp of breaking out to a new yearly high.
Last year, when I wrote about rising silver prices, I explained that if all the world's assets were patients in a mental ward, bonds would be the guy who sits silently in the corner and stares out the window. Stocks would be the guy who wanders the hall and mumbles to himself. Silver would be the guy they keep in the padded room all day.
You see, silver trades a little like a precious metal... so it moves wildly when people get worried about holding paper currencies. Silver is also an industrial metal... so it can trade up and down with global manufacturing activity. Moves of 25% or 50% in just months are the norm with silver.
For the past 11 weeks, Europe's debt and currency crisis has dominated the financial headlines. The global surge in economic activity is also a daily news event. These two developments have sent silver marching from $15 per ounce to $18.60. This is about 60 cents from its high reached last December...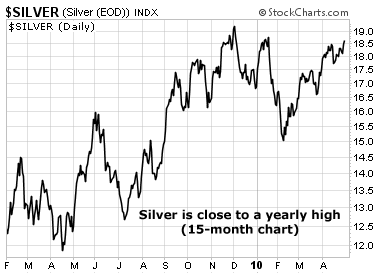 Many market analysts – my friend Porter Stansberry included – believe silver has incredible upside if we see a major flight away from the Western world's debt-soaked paper currencies. If folks look to silver as a way to store wealth, the metal could run hundreds of percent higher from its current level.
We can't know for sure if silver will go bananas soon. But we do know the European debt crisis is in its early stages. We know the U.S. government will do anything in its power to reflate its economy... including using the greatest of its financial powers –the issuance of cheap credit and money. These are bullish factors for silver.
The bargain hunter in me makes me hesitant to buy silver at this current level. I'd much rather buy a position on a big pullback. But bull markets have a way of faking you out in these situations. Waiting on pullbacks can make you miss out on the entire move.
Given the potential drivers for silver, and the fact that the market is acting strong, I don't mind telling folks who own zero silver (or gold) to buy at these levels. The risk of owning some precious metals at relatively high prices is much lower than not owning any precious metals at all.
Good trading,
Brian Hunt