Chalk one up for the good guys...
Back in February, I told subscribers of my newsletter, Stansberry's Investment Advisory, hard drives were approaching obsolescence, thanks to the growing capacity of flash drives (which use solid-state technology). Looking at the $18 billion combined market value of the two largest consumer hard-drive makers (Western Digital and Seagate), I saw a disaster in the making:
Guess who makes the highest-quality solid-state memory devices? Intel. You do not want to compete against Intel. Nobody can survive competing against Intel. Think about it... Intel already makes nearly all of the microprocessors used in personal computers. It can optimize its memory cards for use with its processors. Hard drives won't be able to compete on price or performance for consumer-level storage needs...
– Stansberry's Investment Advisory, February 19, 2010
The chart below shows exactly what happened as the stock market finally realized that booming demand for PCs no longer equaled growing revenues for hard-drive makers. While Intel produced its best quarterly results of all time, shares of the two largest hard-drive makers crashed – because their revenues and earnings didn't keep pace.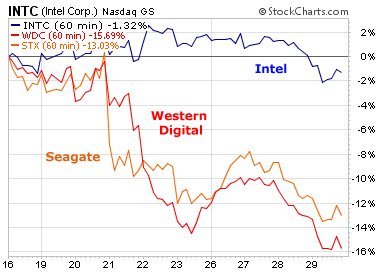 Just as I predicted, more and more people are opting to have solid-state flash memory installed in their laptops. Consumer hard drives will be completely obsolete within the next 18 months, thanks to Intel.
If you took my advice and shorted the shares of both Western Digital and Seagate, you've seen profits of nearly 40% on the positions so far. If you took my Barnes & Noble short-sell recommendation, you're also up about 40%. Congratulations.
While I expect revenue and earnings will continue to decline at both companies (followed by mounting losses), I recommend you cover your short position when your gains surpass 50%.
Why not hold until these stocks reach their inevitable fate? Because when you're shorting stocks, the most you can make is 100%. And that's only if they go all the way to zero. Even though I fully believe these stocks will get there, after you're up 50% on a short position, the risk-to-reward ratio begins to go heavily against you. Additionally, you don't want to get caught trying to cover your short position at the same time everyone else does.
By the way... I know most of our subscribers will never sell a stock short, no matter what we say about it. And the same probably goes for the other investment techniques we've been "pounding the table on" this year: buying corporate bonds, selling puts, following insider trading, etc.
The main reason people refuse to try new techniques is because they fear the unknown. They're simply too scared to do something new. And to validate their own fears, they tell themselves "shorting stocks is too risky..."
That's complete nonsense. My Investment Advisory portfolio holds nine open short positions. Eight of them are profitable. That's a far better "hit rate" than the long side of my portfolio. If you look at my track record over the long term, you'll find more of the same.
The truth is, few companies succeed for long. Most of the companies trading today on the stock exchange won't even exist in 20 years. If you refuse to short stocks, you're missing out on dozens of high-percentage, lucrative opportunities every year.
Do yourself a valuable favor. Study my short-sell recommendations carefully. Don't blow them off as "not for you." Find one that makes sense to you. Make sure you understand my rationale. Make sure you understand the numbers. And then? Call your broker. Set up your account for shorting. And do one trade, even if it's only for a single share of stock.
Trade something that represents such a small amount of money for you that you can ignore the position. That will minimize the anxiety you feel as you learn how to make these trades. You'll find shorting stocks is no different than buying them. You can make just as much money shorting. And, quite frankly, the easiest, safest, and surest trades I ever recommend were shorts.
What should you consider shorting today? Well, our hard-drive and bookstore shorts are already showing a huge profit, so I'd probably pass over those for now. But I have two new positions for you to watch carefully.
The first is my favorite way to play the European collapse. As I outlined in my July letter, this country "cannot afford its debts. Its economy cannot grow – at all – because it's stuck in a currency regime it can't truly afford. Thus, it is only a matter of time before [this country] abandons the euro and defaults on its foreign debts."
And in my latest issue, I recommended selling short shares of another company that competes with Intel. My paid subscribers are waiting for shares of this company to increase before selling them short, so I can't give you the name. But here is a snippet from my research:
It has a long history of failure and losses. It has a huge debt load it is unlikely to repay. It has a well-funded, successful competitor. Its products are known to be inferior, and it lags its competitor in introducing newer, better products. In short, it is unlikely equity investors will ever see a penny in profits from this company, which has never paid a dividend. And it's likely that during the next downturn in technology spending, this company will finally do the world a favor and go bankrupt.
How can you receive all of my short ideas? Simple. Just sign up for my monthly newsletter. You'll find them all in my "victims" portfolio. To learn more about
Stansberry's Investment Advisory
,
click here
.
Regards,
Porter Stansberry