There's a massive buzz going on in the video-game community.
A video game called "Red Dead Redemption" is flying off the shelves. It's an action-adventure western that takes place in the early 1900s. You ride horses, kill the bad guys, play poker, and occasionally skin wild animals.
The video game launched on May 18. It received one of the highest rankings of any video game ever produced. According to video-game research site VG Charts, units sold topped 1.4 million in the first two weeks. Analysts project over 4 million units will sell this year. At $60 a pop, that's over $240 million for one video game.
The company that makes "Red Dead Redemption" is Take-Two Interactive (TTWO). My Penny Stock Specialist subscribers are familiar with the company. I told them to buy shares in December, when they were trading under $8.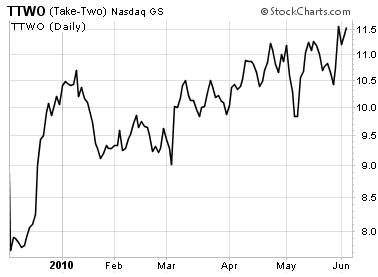 Since my recommendation, shares are up over 40% in six months. But you haven't missed a thing. In fact, I believe Take-Two can double from these levels. Here's why...
Take-Two has one of the best selling entertainment franchises in history: Grand Theft Auto. The game awards points to players who run around a fictional city committing almost any crime you can think of... all to get in good with the mob.
The last installment was published in 2008. Over 15 million units sold. Sales of Take-Two jumped to $1.5 billion. The company earned over $2 a share. But a new GTA title only comes out once every three years.
In 2009, sales fell to under $1 billion. Take-Two reported a loss of $1.12 a share. Take-Two will also report a loss in 2010. The company struggles to turn a profit without a GTA release.
Another major drawback for Take-Two is its contract with Major League Baseball. In 2006, the company signed a six-year contract to make video games under the MLB name. At the time, it looked like a great deal for Take-Two. But few people are buying sports games these days. The company is taking a big hit on earnings because of this deal.
Here's the thing: Over the next 18 months, the new installment of GTA will launch. Also, Take-Two's contract with MLB will expire. That means Take-Two will eliminate its two major earnings risks.
Looking at the numbers, I expect Take-Two to earn at least $1.75 a share (if GTA is released in 2011). That doesn't include sales from its other popular franchises like "BioShock" or "Max Payne."
If my forecast proves correct, Take-Two is trading just seven times next year's earnings. That's a 140% discount to the industry average of 17 times earnings.
I think legendary investor Carl Icahn is using the same math as me. That's why he's been accumulating shares of Take-Two every month since January. He now owns 11% of the company.
Take-Two is scheduled to report second-quarter earnings on Tuesday, June 8. If shares sell off for any reason, I would use the opportunity to buy.
Good investing,
Frank Curzio