Big banks have huge upside.
On July 12, I told you it was
time to buy financials
. I think the opportunity is even more compelling today. I'll show you why in a minute. But first, let's go over the basic case for Big Finance...
The Federal Reserve is keeping interest rates at zero for at least the next 18 months. That means banks can borrow for next to nothing and lend at much higher rates.
Also, almost every institutional analyst lowered earnings estimates heading into the current quarter. That might sound bad, but it means expectations for this sector are low. It makes an upside surprise more likely.
And bank earnings are headed for a boost. All-time-low mortgage rates will spur a wave of refinancing. And high cash levels combined with lower stock prices will heat up the merger and acquisition (M&A) market. M&A generates big profits for banks who act as middlemen.
Plus, financials are one of the hardest-hit sectors. Over the past four months, the Financials Select Fund (XLF) lost 15%.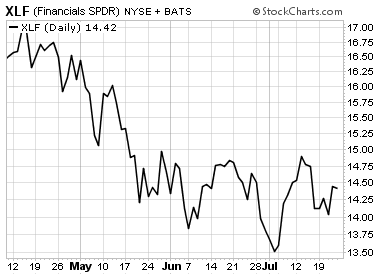 Even with all this working in the big banks' favor, you may still think I'm crazy to buy here. After all, the financial reform bill (which was signed into law last week) is designed to prevent banks from being "too big to fail." Shouldn't all that new regulation limit growth and prevent the biggest banks from reaping the kind of profits they saw before the crash?
Well, judging by a few stats I found recently, nothing could be further from the truth...
According to the Wall Street Journal, Bank of America, JPMorgan, and Wells Fargo have 33% of all U.S. deposits. That's up from 21% in mid-2007, the fastest shift of such a large chunk of deposits in U.S. history.
And according to Inside Mortgage Finance, these three banks made 57% of all home mortgages in the first quarter. That's up 28% from 2008.
SNL Financial reports that Citigroup and the other three financial giants had $7.7 trillion in loans and assets as of March 31. That's up 56% since the end of 2007. Their combined assets are nearly twice as big as the assets of the next 46 biggest banks.
These numbers suggest the biggest U.S. banks will ALWAYS be "too big to fail." The risk to the system is too great for the government to let any of these companies go belly-up. It's bad for our country. But it's great for investors: It creates a floor of value.
Plus, right now, Big Finance stocks are trading at attractive valuations. All four of the names I mentioned are trading below 10 times next year's earnings. As I showed you in my chart from "
The New Rules of Investing
" last week, stocks below 10 times earnings make a great buying opportunity. Also, with the exception of Wells Fargo (at 1.3 times book), all these banks trade below book value. Your risk is pretty limited when you buy this cheap.
Looking at the upside, over the next 18 months, low interest rates will create huge profits for these giants. That means it's just a matter of time before these banks reinstate dividends.
Longer term, these banks will get a piece of every large public stock offering and M&A transaction for the next 20 years.
At these levels, I suggest adding a big bank to your portfolio today.
Good investing,
Frank Curzio