It's a case of throwing the baby out with the oily bathwater...
Since April 23, just after the Deepwater Horizon oil spill hit the newswires, oil giant British Petroleum has fallen 36%. Transocean, the operator of the drill ship, is down 43%.
Considering we don't know how much the government will make these companies pay for the accident, these incredible drops are merited. But there's been a giant selloff in the rest of the oil sector that I don't think is merited... and it's going to give investors and traders a great opportunity.
Since the Deepwater Horizon accident, the Philadelphia Oil Service Sector Index is down 30%. OIH is a fund that follows this index. International service companies like Schlumberger, Noble Drilling, and Baker Hughes are big holdings in the fund.
These are the engineers that make oil and gas flow all over the world... but their shares collapsed under the weight of the Deepwater Horizon debacle. The entire index now trades for just 1.4 times book value.
Prior to the economic destruction of 2008, this index fell near 1.5 times book value twice. If you bought then, you made between 200% and 300% from bottom to top.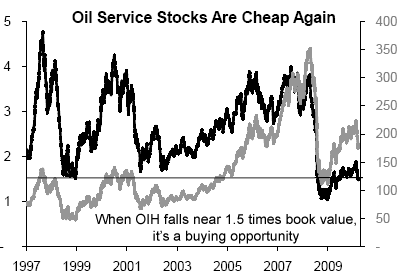 Three of the players in the Deepwater Horizon story – Transocean, Cameron Offshore, and Halliburton – make up nearly 30% of the index... and I'm a little leery of putting my money to work in those companies right now. It's too much of a gamble on how much the U.S. government will put them though the ringer.
But many of the components of OIH – like the industry's blue- chip Schlumberger – don't have any exposure to the Deepwater Horizon disaster. While they will see a slight decline in business due to a ban on offshore drilling, they'll be just fine over the long term.
Consider that the lowest value this index ever hit was even with book value. That was in December 2008 and again in March 2009 – when investors thought the world would end and oil sold for $35 a barrel. Our situation today is nowhere near that bad.
It looks like a good time to speculate on the oil service industry. Conservative investors probably want to wait for the sector to stop plummeting (most stocks in this sector hit fresh 52-week lows yesterday)... and consider buying a blue chip like Schlumberger.
Those of you who simply want to scalp a quick "snap back" move can buy pretty much any stock, or just the OIH.
Shares are so beaten down here, all it takes is for the end of the world NOT to happen... As history has shown over and over, this is the right way to bet.
Good investing,
Matt Badiali