If that's the best they can do, the bulls are in real trouble this week.
Last Thursday's "
dead cat bounce
" was good for nearly 300 points on the Dow Jones Industrial Average. And it popped the S&P 500 back over the 1,100 level.
But it was a one-day-wonder rally. Sellers took over on Friday, and it appears the dead cat is headed back toward the bottom.
Judging by the 30-minute S&P 500 chart, it could be a quick trip. Take a look...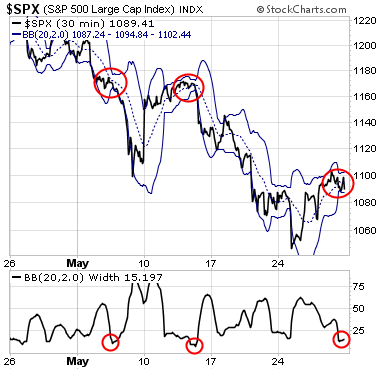 This is a 30-minute chart as opposed to a daily chart, so it depicts the action over an ultra short-term timeframe. Any trading signals from this chart tend to play out within one or two days.
The bottom chart shows the Bollinger Band width. Bollinger Bands (BBs) project the probable trading range for a stock given the current level of volatility.
More important than what they show, however, is how to use them.
Bollinger Bands expand and contract. Periods of low volatility and narrow BBs are followed by periods of high volatility and wide BBs. As you can see from the chart, whenever the BB width dropped below 20, it led to a large move in stock prices. The move can go either way. But during the month of May, those large moves were all to the downside.
Once again, we're looking at narrow Bollinger Bands on the 30-minute S&P 500 chart. A larger-scale move is due today or tomorrow.
If recent history is any sort of a guide, the odds favor another move to the downside – especially since the market couldn't hold on to last Thursday's bounce. Previous declines have been in the range of 40 to 50 S&P points. If the same thing happens this time, we're looking at a test of the most recent lows.
It's not all bad news for the bulls, however. When the Bollinger Bands expand and the width jumps above 60 again, it'll be time to lookout for another bounce.
Dead cats aren't always so predictable. But they have been lately.
Best regards and good trading,
Jeff Clark