The Wall Street bigwigs must be proud.
Three months ago, before they headed off to the Hamptons for a summer of fun and sun, the big shots likely told their underlings, "Don't make waves. No big moves. Keep things quiet and don't give me any reason to come back from vacation early."
As you can see from the following chart, the underlings performed well...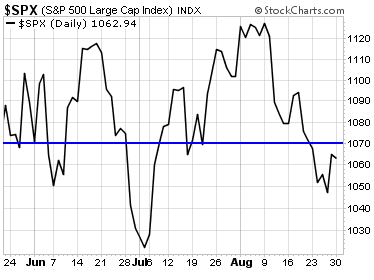 The S&P 500 is ending the summer just about where it started. Despite one Hindenburg Omen, two Federal Open Market Committee (FOMC) meetings, three monthly employment reports, and thousands of corporate earnings releases, stocks have gone nowhere.
It's remarkable, really. Investor sentiment has gone from bearish to bullish and back again, with very little change in stock prices. Oh sure, we've been 4% higher or lower. But that's nothing in a market that's so rife with emotion that 100-point reversals in the Dow Jones Industrial Average are commonplace.
The engine of the stock market only has two gears: It either trends or consolidates. For the past three months, we've been consolidating – idling in neutral and occasionally revving the engine to try to impress the spectators on the sidelines.
Most traders struggle in a consolidating market. They're anxious to do something, anything, to turn a fast profit. They need to justify the endless hours spent staring into the computer screen at the blinking red and green ticker symbols. So they rush in and out of positions with each roar of the market's engine. But without any real movement, most traders end up churning their own accounts and are out of fuel by the time the market is ready to trend.
Never underestimate the value of patience.
That, however, is about to change. Like swallows returning to Capistrano, the Wall Street bigwigs will soon be flocking back to their trading posts. Labor Day signals the end of summer and likely the next big trending move for the stock market.
It has been a long, inactive summer for traders. But the potential for a big move this fall is enormous.
Get ready for it.
Best regards and good trading,
Jeff Clark