Put natural gas producers on your watch list... They could be an extraordinary trade soon.
Adding to the volatility is the fact that the Gulf of Mexico region is responsible for 45% of U.S. natural gas production. This hurricane-prone area adds another layer of "weather swing" to the price.
Most weather forecasters predicted a heavy hurricane season this year. Since a big storm can shut down swaths of production, traders bid up the price of natural gas.
Their hopes drove natural gas prices up 33% from $3.90 per thousand cubic feet (mcf) on May 1 to $5.18 per mcf on June 21... and gave natural gas producers a temporary boost in share price.
As you can see from the chart below, however, a lack of storm activity has sent the price back down below $4 per mcf. This drop has hammered natural gas producers.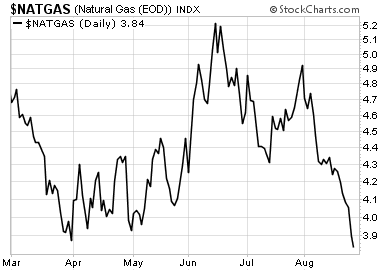 Big independent producers like Chesapeake Energy (CHK) are in freefall. Chesapeake shares are down 22% since mid-June. Another big producer, Range Resources (RRC), is down 34% over that same period.
Other big natural gas names like Southwestern Energy, Ultra Petroleum, and EnCana are all at 52-week lows.
This is simply the boom/bust nature of natural gas at work. (Natural gas royalty trusts have held up relatively well, though. They aren't as sensitive to short-term fluctuations.)
If natural gas declines a bit more... and hammers the natural-gas producers another 10% or 20%, it's going to be bargain-hunting time. The "relief rebound" in these stocks could be extraordinary.
Good investing,
Matt Badiali