After enjoying an incredible rise thanks to the federal government, commercial real estate stocks are ready to fall...
The real estate fund IYR holds a basket of real estate stocks like Simon Property Group, Vornado Realty Trust, Public Storage, Equity Residential, and Boston Properties. These companies own office buildings, malls, parking lots, storage facilities, hospitals, and industrial parks. Each month, they collect rent from their tenants and pass it on to shareholders.
As you can imagine, when the real estate crisis hit in 2008, these stocks were decimated. IYR fell more than 50% in two months... and kept falling. But after a hard bounce in March 2009, this fund is up about 80%.
A lot of people think this is a great place to invest right now. They're after the high yields that REITs offer. I think this is a dangerous place to put your money. Here's why...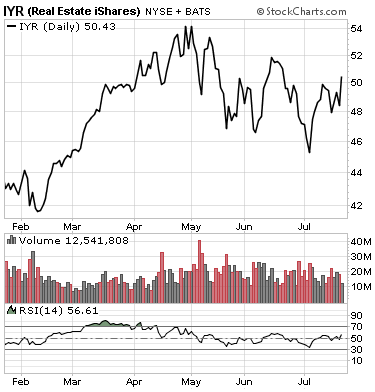 First, notice the downtrend. IYR is heading lower in a series of lower lows and lower highs. Now, look at the volume. The red bars represent volume on down days. The gray bars represent volume on up days. Notice how the red bars are much taller than the gray bars. Whenever IYR rises, volume shrinks, but whenever it falls, volume expands.
This tells us large investors are selling these stocks with enthusiasm... and there's little buying interest to support shares.
Now, look at the Relative Strength Index (RSI). The RSI is a momentum indicator... it's a sort of heart rate monitor for price trends.
You want momentum to rise with the trend. When momentum heads lower, while prices head higher, it's a sign the trend is losing steam. IYR's momentum peaked in mid-March and started slowing. It signaled a major trend change. At the end of April, IYR began to fall.
IYR has enjoyed a huge price run since March 2009, but now it's being sold heavily, its uptrend is losing steam, and it's making a series of lower highs and lower lows. I expect this bearish action to continue... and it's time bet on the uptrend ending.
Good trading,
Tom